Waking up post a nightmare is one thing. But, things went up a (terrifying) notch for a Georgia woman who woke up to find a wild African cat right beside her in bed on Wednesday!
"I said, 'That's not a normal house cat. I don't know what that is, but I am terrified right now," Kristine Frank recalled, speaking to to CNN. "It still kind of terrifies me because that cat is illegal and there's a reason it's illegal. So, I really don't know what it's capable of doing," she added. Despite the creatures being illegal, there are no federal laws around it, as per Animal Legal Defense Fund (ALDF).
Upon the arrival of animal control officials from the Georgia Department of Natural Resources, it came to the couple's knowledge that the surprise visitor was indeed a wild African cat, which usually weighs up to 40 pounds and is illegal in Georgia, reported New York Post. The animal control officials were alerted by Frank, who believes that the serval made its way into their home after her husband left a door open while taking their dog out.
The woman further enthused that she reportedly scared the fiery feline off the bed—who was literally just about six inches from her face— and inched her way out of the room, while her husband opened another door to let the animal out. Frank also suggested that the two and a half feet tall feline could be somebody's pet, shedding further light on the need to prohibit wild cat ownership.
"Wild cats are not meant for private possession," said ALDF Senior Legislative Affairs Manager Alicia Prygoski. "The wild cat trade in this country is really not well regulated, which results in many species of wild cats, including servals, living out their lives in private homes which are not adequate environments for the natural behaviors that they exhibit," she added. The officer averred that due efforts were being made to ensure that the animal survives in an appropriate environment.
Given how ferocious African cats usually are, Prygoski urged residents to stay vigilant and contact animal control if they were to sight the creature in their vicinity.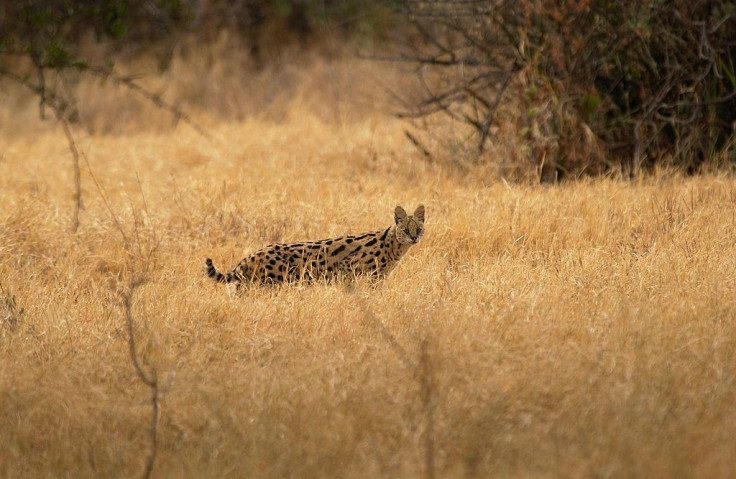 © 2023 Latin Times. All rights reserved. Do not reproduce without permission.