A small spa in Cairo, Egypt has been the latest buzz on social media for its specialized massage services using live slithering snakes. Spa owner Safwat Sedki claims the snakes help reduce muscle and joint pain while releasing endorphins as well as improves blood circulation.
"The use of snakes is a type of massage, and it has two aims, physical and emotional", Sedki explains.
"The physical aim is to improve blood circulation and mental stimulation and the emotional aim is that it releases endorphins that help with the 'happy hormone' that helps people regain confidence and strengthen the immune system."
A typical snake massage session lasts for 30 minutes. This would involve clients settling in with some soothing music piped through the spa's sound system as the masseurs rub oil on their back. Sort of like a calming preparation for what may freak one out as a combination of pythons and about 28 different types of non-venomous cold and slimy snakes are coaxed to slither about one's back to do their jobs.
According to an article in the New York Post, the massage technique first gained popularity in Indonesia and the Philippines and expanded throughout other countries such as Brazil, Israel, Russia as well as the U.S.
Sedki admits his snake massage was understandably not an easy sell to Egyptian clientele at first due to the element of fear ingrained at the thought of snakes. But after explaining the benefits of his reptile massage services, people began to accept the idea and gradually got over their fear.
In a video on CNN, a curious customer, Diaa Zein, stumbled upon Sedki's unique spa services on social media and decided to give it a try. He said the experience gave him a sense of relief and rejuvenation.
"I was nervous at first and scared of snakes being on my body," he said.
"But the fear, anxiety and tension were reduced and the session gave a sense of relaxation as the snakes went over my back and having them there boosted my self-confidence."
Although this type of massage may not be for the faint of heart, Sedki said offering free trial sessions to curious patrons drew in regular customers. The spa now charges around 100 Egyptian Pounds ($6.37) for a 20 or 30-minute session.
Sedki advised, however, his snake massage services should not be used as a substitute for traditional medical care or regular visits to the doctor.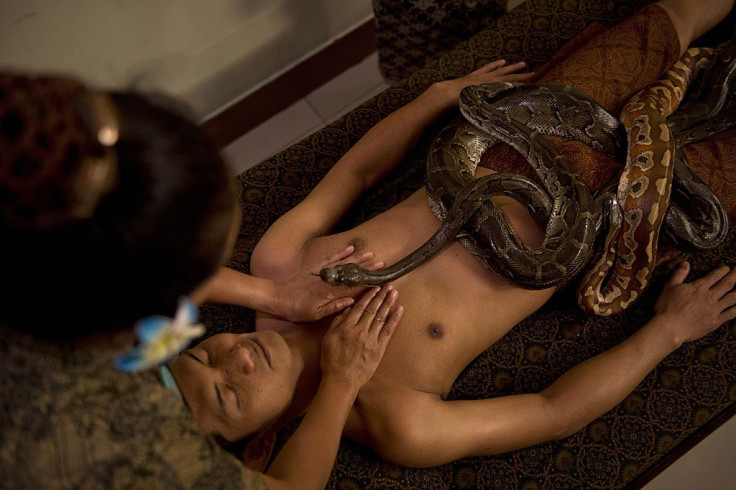 © 2023 Latin Times. All rights reserved. Do not reproduce without permission.