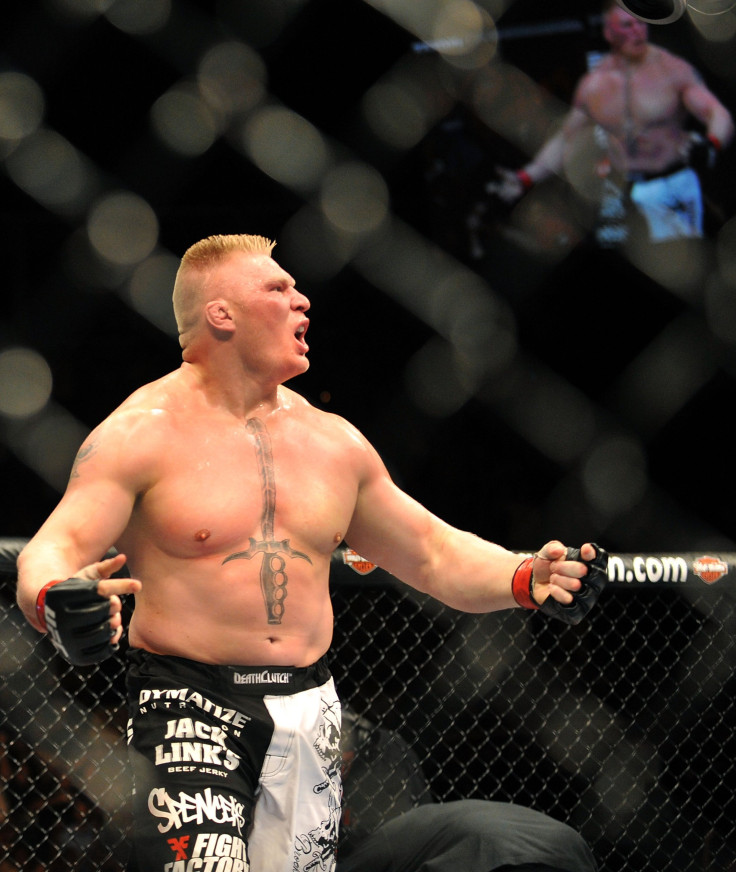 The biggest and most anticipated wrestling match since Wrestlemania turned into the most one-sided in WWE history.
Two-time collegiate wrestling champion, former UFC heavyweight champion, and former WWE World Heavyweight champion, Brock Lesnar, won back the belt that he last wore a decade ago when he obliterated the current champion John Cena in front of over 15, 000 fans at the Staples Center in Los Angeles on Sunday.
The event was WWE's summer Pay Per View extravaganza SummerSlam, and Lesnar made sure not to disappoint. In dominating fashion, Lesnar defeated Cena in one of the most lopsided matches in WWE history. Lesnar opened the main event match with his signature move the F5. After that, he threw Cena around the ring like a rag doll hitting him with suplex after suplex before finishing him off with another F5.
For the second major WWE PPV event in a row, Lesnar displayed his superior skill and dominance. At Wrestlemania XXX in New Orleans earlier this year, Lesnar ended the Undertaker's undefeated Wresltemania record of 21-0 when he delivered three F5's to the WWE legend. Again Lesnar continued his domination of the WWE at SummerSlam on Sunday when decimated Cena from start to finish.
We're not sure why the writers of the WWE have chosen to feature the dominance of Brock "the Beast" Lesnar, considering he only wrestles in a few matches a year, but he certainly has lived up to his nickname each and every time he's entered the ring. Perhaps with their struggling stock price the WWE is moving slightly more in the direction of UFC and more reality based content. Lesnar certainly is the real deal, having been a champion collegiate wrestler, an NFL football player and a UFC champion. The Minnesota native is now the reigning WWE World Champion and he could retain the title for a very long time.
In other matches at the SummerSlam event on Sunday, Dolph Ziggler won the Intercontinental Championship from "The Miz". Paige won the Divas championship against AJ. Stephanie McMahon (or Mrs. Triple H), made her return to the ring in over eleven years when she defeated Brie Bella thanks to the help of Brie's sister Nikki, who turned on her twin.
Young stars, Seth Rollins and Dean Ambrose put on quite a show in their lumberjack match and Ambrose may have stolen the entire show with his performance. In a surprise twist, Roman Reigns defeated Randy Orton despite being severely out wrestled by Orton for most of the match. Orton hit Reign's with an amazing power slam, but Reigns recovered to steal the victory.
The UFC was well represented at Staples Center as Ronda Rousey was seen with Stephanie McMahon after the match as reporters asked Rousey if she was going to make a move from UFC to the WWE. Also, UFC Champion, Jon "Bones" Jones, who is recovering from a knee injury at the moment was backstage with Lesnar after the matched and put this video up on his instagram:
© 2023 Latin Times. All rights reserved. Do not reproduce without permission.