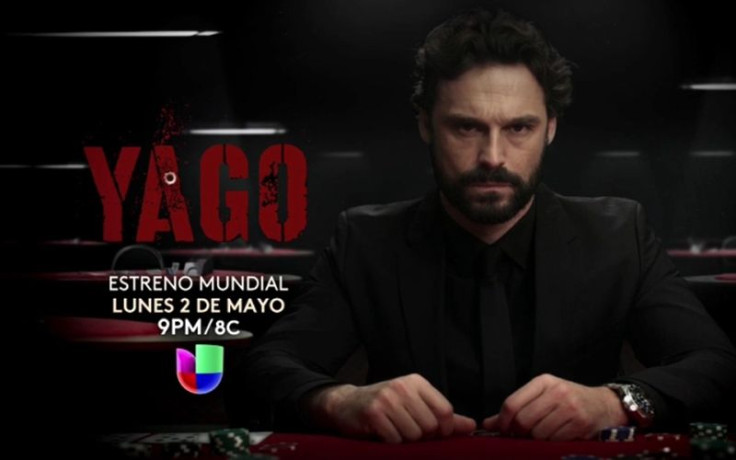 Iván Sánchez is the star of Univision's new telenovela called "Yago." The series is premiering in May and the Spanish-language network has aired a new preview. In this clip we see Sánchez as Yago sitting in a poker table holding up a card and burning up right before our eyes. As we see the images a voice over is heard saying: "luck is always in your favor when you are seeking revenge." Wow! Let's just soak that in for a bit. Although promo is really short, it's extremely effective because now we are drawn in more to see the first episode. The on-air start date is official May 2 at 9pm ET/PT taking the "Pasión y Poder" time slot that it currently holds. Watch the preview below and tell us what you think!
"Yago" stars Iván Sánchez ("Lo Imperdonable"), Gaby De La Garza ("Las Aparicio"), Flavio Medina ("Yo No Creo En Los Hombres"), Pablo Valentín ("Antes Muerta Que Lichita"), Ximena Romo ("El Color De La Pasión"), Jade Fraser ("Hasta El Fin Del Mundo"), Sophie Alexander Katz ("Para Volver A Amar"), Patricio Castillo ("Mentir Para Vivir") and many more. "Yago" is loosely based on "The Count Of Monte Cristo" about a man wrongfully accused of a crime that he didn't commit. He is then left for dead, but returns with a new identity to take revenge on those people that did him wrong.
"Yago" is produced by Carmen Armendariz who has experience in dramas like "Locas De Amor" and "Casate Conmigo Mi Amor." This new production is an effort by Televisa to delivery quality products to its viewers. It's part of a new production line that will focus on creating shorter telenovelas, with great talent and a visually aesthetic image. Televisa is calling them "teleseries," a hybrid between a series and a general telenovela.
© 2023 Latin Times. All rights reserved. Do not reproduce without permission.