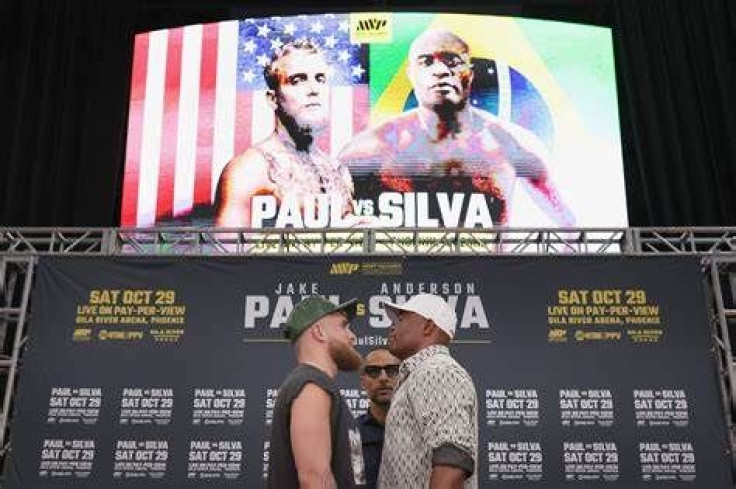 Boxer and social media sensation Jake Paul is at it again, parading into the ring once again to trade blows with another big-name Mixed Martial Artist's well past his prime. And then again, as in his previous bouts, Paul will face his toughest challenge yet as a professional boxer on Saturday night, in the Desert Diamond Arena, against Anderson 'The Spider' Silva.
Some of 'The Problem Child's' latest antics in the ring includes knocking out a former NBA Slam Dunk contest winner in Nate Robinson, dropping in less than two minutes a coming-out of retirement Ultimate Fighting Championship veteran Ben Askren and disposing of an undersized former welterweight MMA Champion Tyrone Woodley, not once but twice.
Then there is Silva. The MMA phenom holds the UFC record for the longest title reign at 2,457 days as a middleweight champion.
A novelty fight for some, and for others a tune-up fight for Paul, there is plenty of speculation on a next opponent, such as Tommy Fury, younger brother to heavyweight champion Tyson Fury.
Silva offers experience and a championship pedigree. The Sao Paulo native has had a winning boxing trajectory to accompany his MMA legacy, sporting a 3-1 record in bouts dating back to 1998.
Jake Paul's notoriety had him riding in on horseback to his open workout Wednesday. The YouTube sensation with 20.3 million subs plays the part of a sideshow, then an actual fighter.
One can expect little to no horseplaying when the bell rings, with Silva continuing a boxing career that last had him defeating former UFC light heavyweight champion Tito Ortiz.
A win for the social media sensation-turned-boxing prospect cements Paul as a legitimate young contender, while a loss could trigger a comeback of sorts from arguably the greatest MMA Fighter of all-time.
© 2023 Latin Times. All rights reserved. Do not reproduce without permission.