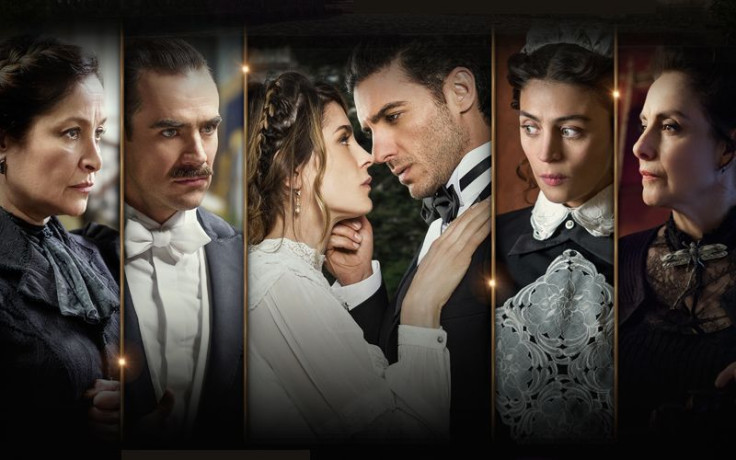 Univision is all set to open the doors to "El Hotel De Los Secretos." The brand new telenovela by Televisa will be airing stateside first, before anybody else. Production for this new series has been underway in Mexico for the past couple of months and judging from the promos, it looks like it's going to be a big hit. Erick Elias, Irene Azuela, Daniela Romo and Diana Bracho star in this epic novela based on the Spanish series called "Gran Hotel." We are excited to watch the premiere of Episode 1 tonight and we have 10 reasons for you not to miss out either...
1. Grand Production: This telenovela has been produced to look more like a series. Televisa has gone out of its way to allow producer Roberto Gómez Fernández and everyone behind the scenes to make a masterpiece. You will be in ahhh with the locations, the look and feel of every scene in this production. It's like nothing Televisa has produced before in a long, long time.
2. Short Series: Univision is trying out a short-form telenovela. "El Hotel De Los Secretos" is the first of a string of productions that will be premiering in this same time slot. They are not to be endless with 200 episodes where nothing happens. This is scheduled to have only 80 episodes, which will allow producers to take care of more details and make it perfection for viewers.
3. Different Adaptation: Many might say that they have already seen the original Spanish series, which "El Hotel De Los Secretos" is based on. "Gran Hotel" has been available on Netflix for streaming for a while, but we can confirm that the Mexican adaptation takes liberties and they have changed some of the situations. Although many of the central story lines are inspired by the original, this new production is different and you won't want to miss it.
4. Worldwide Premiere: Univision audiences can feel special as this series has been made especially for the Latino audiences. This is not a production that premiered months ago in Mexico and we are getting to se a "re-run," if you will. "El Hotel De Los Secretos" has not aired anywhere else and we are getting the exclusive look at this grand production.
5. Fast-Paced: Going back to "El Hotel De Los Secretos" being short, the pacing will be much quicker. Although it is a big cast, there are no characters that are here to just waste time. In the past, there have been telenovelas that have characters that are not really pivotal to the storyline and are just there to fill up time. With this series, everyone has something to say and they all add something to the story. This causes the scripts to be a little more fast-paced and things to actually happen and look forward to in every episode.
6. Diana Bracho: Dame Diana Bracho deserves her own reason to watch. What is not to like about this legendary actress? She is a class act and provides the prestige to the "upstairs" characters. Bracho moves swiftly between a stern and docile woman. You will be surprised at the things she says and does in this new series.
7. Daniela Romo: Another legendary actress that deserves to stand on her own as a reason to watch, Daniela Romo. She has been in telenovelas for so long and is an ace. She will provide prestige to the "downstairs" characters and we can't wait to see what she does.
8. Main Couple: Erick Elias and Irene Azuela have great chemistry and audiences will see it once they watch the opening scenes of this telenovela. It's an instant connection that will set off fireworks right from the get go in this truly passionate love story.
9. Supporting Cast: "El Hotel De Los Secretos" has an amazing cast that also includes Javier Poza, Ilse Salas, Dominika Paleta, Carlos Rivera, Alejandro De La Madrid, Juan Ferrara, Ximena Herrera, Jesús Ochoa and many more.
10. Revolving Cast: Since "El Hotel De Los Secretos" works more like a series, there will be many actors that come and go. This will be exciting to see who guest stars and has mini story arcs within the telenovela.
"El Hotel De Los Secretos" premieres Monday, January 15 at 10pm ET/PT on Univision.
© 2023 Latin Times. All rights reserved. Do not reproduce without permission.