At least 17 people were injured when illicit fireworks exploded inside a bomb squad van. The explosion happened when bomb squad members were trying to safely detonate illicit fireworks confiscated from a residential property.
According to authorities, none of the injuries were life-threatening.
The incident occurred at 7:30 p.m. local time while the bomb squad was preparing to detonate part of the explosives in a truck equipped with a blast-resistant containment tank.
However, the episode on Wednesday evening, June 30, resulted in the destruction of a bomb squad truck as well as injuries to neighbors in the area. The explosion totaled the automobile, flipped another adjacent vehicle, and smashed windows in the locality.
Local homes were also destroyed, and municipal officials were assessing them to see if they were up to code, according to NBC News.
Seventeen persons, including nine LAPD officers, were reportedly transported to area hospitals for treatment.
Officials stated three individuals in the vicinity were injured moderately and three others were injured minorly. A third individual was treated on the spot but not sent to the hospital. Minor injuries were also sustained by nine LAPD officers and a federal Bureau of Alcohol, Tobacco, Firearms, and Explosives (ATF) agent.
The LAPD had earlier in the day recovered at least 5,000 pounds of illegal pyrotechnics from the property.
The source of the explosion is unknown at this time, according to the LAPD, who stated in a tweet that some pyrotechnics were being placed in the bomb squad trailer as a preventative measure.
After receiving a tip-off, Newton Division police seized the large stash at a house around 27th and San Pedro streets.
The explosives were brought in from out of state by 27-year-old Arturo Cejas who was detained for reselling them over the July 4th weekend. He is accused of having a harmful device in his hands.
Cejas was being detained on a $500,000 bond, according to CBS Los Angeles.
The man might face extra charges of child endangerment because his 10-year-old brother resides at the house.
Other improvised bombs were allegedly stashed in the residence, which is in a residential area near an elementary school.
"Our Bomb Squad officers were in the process of seizing over 5,000 pounds of illegal fireworks in the area of 27th Street and San Pedro," the LAPD stated in a report.
"Some of the fireworks were being stored in our Bomb Squad trailer as a precautionary measure. Unknown at this time what caused an explosion," they continued. "There are PIOs at the scene and this is an ongoing situation in which the area will be impacted for hours due to evacuations, rendering the location safe, and investigation," they added.
Homeowners in the neighborhood where the bomb exploded have been evacuated.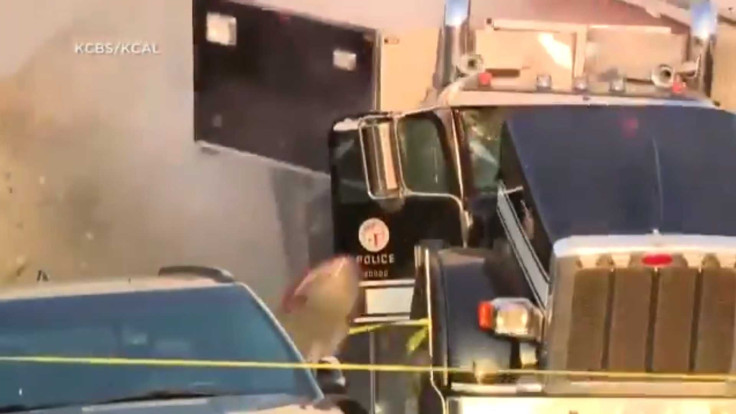 © 2023 Latin Times. All rights reserved. Do not reproduce without permission.