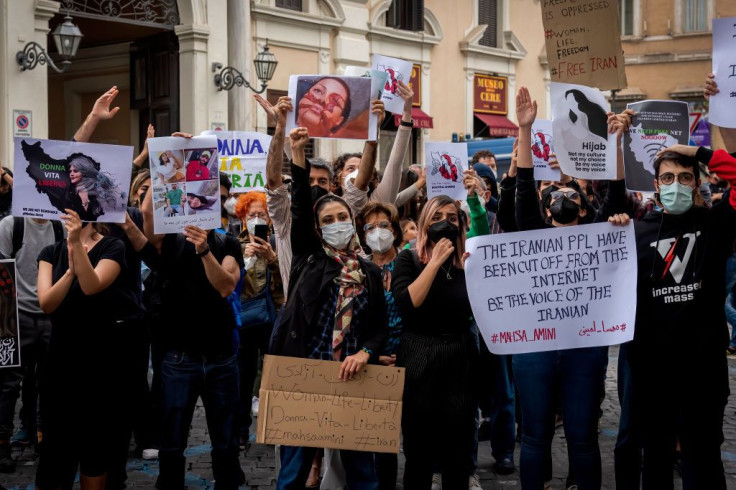 A young Iranian woman was shot dead by security forces over a week ago during an anti-government protest. A viral video was posted following the death of the woman identified as Hadis Najafi. The footage captured Najafi tying her hair back as she prepared to join a group of protestors on Sept 21.
According to Alarabiya News, Najafi was killed in the city of Karaj, where she was allegedly shot by Iran's security forces. She suffered bullet wounds to the face and neck, and was taken to the Ghaem Hospital where she later died of her injuries. She was supposedly standing in the middle of the protest against the death of another young Iranian, Mahsa Amini when she was shot six times.
The 20-year-old Najafi was a prominent figure on TikTok and Instagram bringing even more attention to her video. She has since become a martyr for activists and the latest symbol of grief and defiance brought on by nationwide protests in Iran since Sept.16. Amini, 22, was killed on Sept. 16 after she was arrested by authorities for allegedly violating the nation's strict hijab code. The incident sparked outrage, triggering a series of violent anti-government protests in Iran.
The demonstrations by activists typically commenced in the later hours, turning into violent scuffles with authorities. The Iranian government has struck back with the use of water cannons and batons to suppress the crowds and has even resorted to firing live ammunition. Around 41 people were reportedly killed, including both activists and security forces, along with hundreds of arrests.
Many of the protestors consist of women displaying outward defiance to the nation's Hijab laws, a dress code in some Islamic countries that require women to cover their hair and dress in loose-fit clothing. Women have been at the forefront of these protests waving and burning their veils/headscarves, while some have even publicly cut their hair as they all called for the downfall of Supreme Leader Ayatollah Ali Khamenei.
The current protest has also rallied anger among Iranian citizens calling out the country's economy due to sanctions placed by the U.S. government and corruption within the economic management, which have affected the living conditions of many Iranians.
This is not the first time the Islamic Republic has faced such an uproar. A series of civil protests called "Bloody November" took place from 2019 to 2020, caused by a 50 to 200% price hike in fuel, poverty, human rights abuses, government corruption, and the opposition to anti-Americanism in Iran, which resulted in the protests being quelled with deadly force by government authorities and a complete nationwide internet blackout. The aftermath of the civil unrest caused an increase in sympathy for the Iranian Democratic Movement.