As the year 2022 comes into an end, the LGBTQ community has found itself in upheaval in the United States and in the world as many continue their battle against the progress that has happened in the government and in the hearts of many people.
This tumultuous period has targeted the rights of many queer individuals, mainly focused on transgender individuals. And, much of the consistent pushback against the LGBTQ community has caused many activists to fight for the enshrinement of their rights–especially in a contentious election year where the topic became a political firestorm.
With that in mind, let's go through three of the major developments and incidents that the LGBTQ community has had to encounter throughout the year.
Increase in statewide anti-trans legislature
Transgender Americans of all ages found themselves feeling intense scrutiny in 2022, as the Republican party hyper-charged legislation against the marginalized group and attempted to push for legislation that could restrict their ability to live normally in the country, according to the Washington Post.
Much have been focused on bans from transgender athletes from participating in sports or using washrooms and locker rooms that are the gender of their choice. Many conservative states, like Texas and Florida, have outright criminalized gender-affirming medical procedures or gender-affirming social actions in schools for transgender youth.
Over 155 anti-trans bills have been pushed into Congress in 2022 as of Oct. 13, and that number is expected to grow as conservative states continue their attack on the trans community.
Some states like Connecticut and Hawaii, have responded to the increasing number of anti-trans bills and laws by increasing protections and anti-discrimination laws against the marginalized groups, with Connecticut and California enshrining laws that allow them to be "refuge" states against fleeing trans individuals.
"I don't know how to describe to somebody that isn't going through it how it feels to have the anxiety of waking up every morning, not knowing whether your state is going to attack your right to exist," Orlando trans advocate Alyssa MacKenzie said.
Conservatives leading to book bans in libraries across America
Conservative groups have also utilized their influence in different states in order to ban specific types of books in libraries–books that include LGBTQ characters and topics, or topics about race and racism in the history of the U.S., Education Week reported.
Over 2,500 books in 32 different states have been banned in hundreds of school districts across the country, with the ban's advocates claiming that these books are inappropriate for children due to references to sex and sexuality, despite similar books about straight characters not being put on the ban list.
Among the most frequent books being banned are Maia Kobabe's "Gender Queer: A Memoir," George M. Johnson's "All Boys Aren't Blue," and Angie Thomas's "The Hate U Give," many of which center around LGBTQ- or race-related themes.
At least 50% of the local books ban has been by conservative group Moms for Liberty, which first got attention after one of their members challenged a book about civil rights activist Ruby Bridges in their library. The group has expanded nationally since then, and is expected to increase their book ban challenges in the future.
"What we're seeing now is organized efforts at the local level, at the national level, to challenge 10, 20, 50 books at a time, and books that generally represent the voices and experiences of traditionally marginalized and underrepresented communities," American Library Association's Office for Intellectual Freedom director Deborah Caldwell-Stone said.
President Biden signs law protecting same-sex marriage
A positive development in the LGBTQ community, however, is the signing of the Respect for Marriage Act by U.S. President Joe Biden on Dec. 13, which protects and enshrines same-sex and interracial marriage across the U.S., CNN reported.
The bill ratifying federal protections on same-sex marriage has been around for years, but support for it intensified after Roe v. Wade was overturned by the Supreme Court, which sparked fears that Obergefell v. Hodges, the Supreme Court ruling that gave LGBT couples the right to marry, could also be overturned.
It found itself having a lot of bipartisan support in both the House and the Senate: 39 House Republicans voted in favor of the bill alongside Democrats, and 12 Republican Senators joined the rest of the Democrats in the Senate to vote the bill into fruition.
"For most of our nation's history, we denied interracial couples and same sex couples from these protections," Biden said. "It failed to treat them with equal dignity and respect. And now, this law requires an interracial marriage and same-sex marriage must be recognized as legal in every state in the nation."
For the future
As LGBTQ rights continue to be under attack in the upcoming future, many activists are continuing the fight to ensure that the rights of the marginalized are protected. And with the protection of same-sex marriage becoming law, many are hoping that, as they continue to fight, that the future would not be as bleak for queer individuals as it currently seems.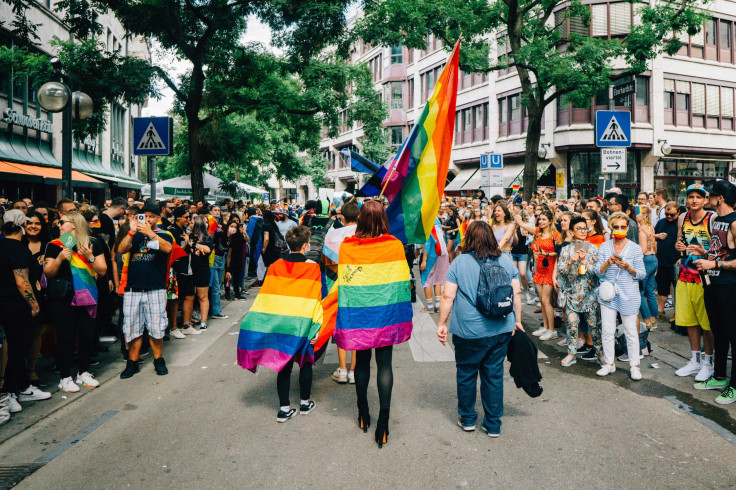 © 2023 Latin Times. All rights reserved. Do not reproduce without permission.