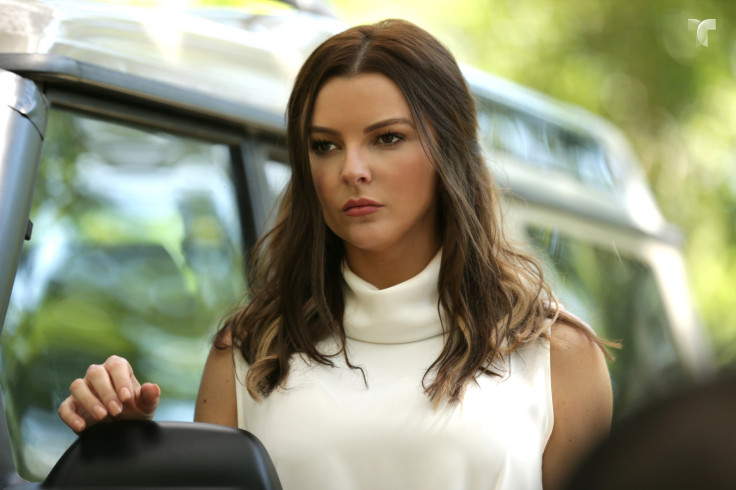 Marjorie De Sousa and Litzy star in the new Telemundo series, "Al Otro Lado Del Muro". The telenovela is a thrilling story about two women who come to live in the United States: one chasing a dream and the other one escaping from a nightmare set to premiere on Wednesday, February 21 starting at 9pm ET/PT. Meet the cast and characters they play below!
Litzy (Eliza Romero): She is a mother and professional baker, married to Max Sullivan. She's a sweet and generous woman, completely devoted to her family and her profession. She has a big heart and is often naïve, but she's capable of anything for her family. She moves to the United States to meet with her husband, without suspecting that he had another family there. Max never arrives to their meeting point in the city of Los Angeles as they had agreed. Assuming that something went terribly with her husband, she decides to stay in the United States until she finds him. With Sofia and Andres' help, Eliza will open a baking business in Los Angeles that will allow her to support her family. Ten years pass, during which she lives in the country as an illegal immigrant. After that time Eliza discovers the truth about Max. She and Sofia have known each other for several years, since Eliza is the one who provided all the cakes and desserts for Sofia's parties. The fate of the two women and their children will be united when Sofia flees to the United States and find refuge in Eliza's house.
Marjorie de Sousa (Sofía Villavicencio): Sofia is a very beautiful woman, ex-beauty pageant queen, married to the governor Ernesto Martinez. She's the perfect wife, always ready to support her husband in his political career. At the beginning of the story she trusts her husband and his social talent blindly. She is a loving mother to Alondra and Julian, to whom she instills good values. Sofia's world falls apart when she discovers that her husband is a member of a human trafficking gang. Bewildered and disgusted by what she discovers, she faces the dilemma of looking the other way to not betray her husband or doing what she can to rescue a group of kidnapped girls. Her motherly consciousness makes her opt for the latter despite the fact the she puts herself at risk. The girls are released thanks to her intervention and as a result of this; she has to flee to the United States with her daughter Alondra, while her son Julian is torn out of her arms. As a consequence, she is accused of a crime that she didn't commit and is sentenced to death in Los Angeles. Before being captured, Sofia leaves her daughter Alondra, in Eliza's care to protect her from Ernesto and his partners. A love-hate relationship blooms between her and Joel Benitez, the Interpol Police who she meets as a result of the discovery of Ernesto's crimes.
Gabriel Porras (Ernesto Martínez): Governor of one of Mexico's states, Ernesto is the typical charismatic politician and trickster who knows how to win people over. He's a complex character, calculating, dark, but at the same time in his own way he loves his family and tries to protect them. He married Sofia mainly because of her beauty and popularity, which he has used to boost his political career. He's been enriched by his dirty business with organized crime gangs, but he's a sharp politician who has managed to cover up his footsteps. He enjoys the service of senior politicians of the federal government which allows him to act with complete liberty. When Sofia discovers him, Ernesto and Paula –his lover– will become Sofia's worst enemies.
Kothan Fernandez (Max Sullivan): For many years he's lead a double life, married with Eliza in Mexico and with Jennifer in the United States. He's not a bad guy and loves both his families with all his heart. Things get complicated when he decides to divorce Jennifer and take Eliza and their two children to live in the United States. His plans stop when he learns that Charly, the son he had with Jennifer, has a deteriorating illness that will most likely kill him by the time he's a teenager. Max decides to sacrifice his happiness next to Eliza and their children, to stay with Jennifer and Charly. Max, although of American origin, lived and grew up a good part of his youth in Mexico, since his parents had a business in the country. That's how he met Eliza ten years ago. A few years later he had an affair with Jennifer and she became pregnant with Charly. They got married due to the pregnancy, although his real true love has always been Eliza.
Daniela Bascope (Jennifer Suárez): Her parents are from Latin America, but she was born and raised in the United States. Jennifer discovers Max's deceit before anyone else and when she finds out about her son's illness, she pressures Max to stay with them and break any bond with his other family. She threatens him with taking custody of the child and accusing him of bigamy. Jennifer is an intelligent woman, determined to do whatever it takes to protect her son, even to take Eliza's son, Rodrigo from her, in order to use him as a marrow donor for Charly, in a desperate attempt to prolong his life.
Gustavo Pedraza (Steve Williams): Max's business partner and friend, Steve is married to Margo and is Demian's father. Steve meets Eliza accidentally when he is sent by Max to pick up Eliza and the children at the bus station upon arrival in the United States. However, right before meeting her, he is assaulted and brutally beaten by some gang members. Steve loses his memory temporarily. Eliza, in her quest for Max, receives a call from a nurse who tells her that there is a John Doe in the hospital that corresponds to her husband's characteristics. Eliza goes to see him but turns out its Steve. Eliza sympathizes with him and decides to continue to visit while he recovers his memory and comes in contact with his family.
Guillermo Iván (Joel Benítez): He's an Interpol policeman who is hardworking and determined; he's seen much evil in the world, which makes him distrust everything and everyone. His only emotional connection is his sister Irene, a journalist who shares with him the commitment of bringing criminals to justice. Joel is involved in a covert operation to deactivate an international trafficking network of women and children for sexual exploitation; a network which Ernesto Martinez, Juan Estevez and U.S. Senator Irving Cummings are a part of. Joel helps Sofia escape when she helps liberate a group of women and children who are kidnapped. Nevertheless, they make him believe that Sofia killed Irene and he decides to make her pay for the crime, in spite of the strong attraction that exists between them.
Uriel Del Toro (Andrés Juárez): He's a generous and very supportive man. Andres arrived to the U.S. with his wife, Maria, fleeing from the violence of the drug world. The U.S. has been very generous with him; it has not only given him asylum, but has allowed him to work and give his family a dignified life. He feels profoundly grateful for this, but he also feels obliged to share what he has received with the less fortunate. Because of this, he has dedicated himself to helping others. He has a shelter for immigrants and serves as a liaison to find them work. He's Eliza's first contact in Los Angeles and lends her his name so that she can open her business.
Omar Germenos (Juan Estévez): He's a grim man who profits from the suffering of boys and girls. Juan is Ernesto's friend and Godfather to Julian, Sofia and Ernesto's eldest son. When things become difficult for Ernesto, Juan will be sacrificed by his friend and the criminals who support him.
Edward Nutkewickz (Irving Cummings): Cummings is the Senator of Texas, known as "El Texano", but also the head of the international network of child traffickers. He's been very good at covering his footsteps but Sofia's discovery endangers his facade. He'll use his political power so that the judge condemns Sofia to death. In the year 2015, when Sofia heads towards an appeal hearing before the judge, Cummings organizes an attempt to kill her. Luckily the FBI learns of his plan and step in to save Sofia. The FBI makes sure everyone believes she is dead, and turns her into an informant.
Gabriela Vergara (Paula Duarte): Paula is Ernesto's private secretary and lover. She is a cold and ambitious woman who is responsible for designing political and media strategies to support Ernesto's political career. She deeply despises Sofia, whom she solely considers a necessary ornament in Ernesto's life. Her main ambition is to take Ernesto to the presidential seat. She is the one behind the plan to incriminate Sofia for Irene's murder. She will commit a series of treacherous and criminal acts to fulfill her goals and those of her lover.
Ana González (Irene Benítez): Irene is Joel's sister. They were both born in Mexico, but as kids their parents took them to the United States. Like her brother, she has an unshakeable sense of duty and justice, but she exercises it as a journalist. Her obsession to reach the truth will lead her to get killed. Sofia is accused of Irene's death.
Adriana Barraza (Carmen Rosales de Romero): Carmen is Eliza's mother. She's a very patriotic woman who loves her country and culture. Sincere and disdainful, she has never felt belittled before anyone or anything. No one can tell her what to do, that's why, when a pestering immigration agent questions her attempt to enter the United States as a tourist, Carmen tells him to take a hike, and he in return takes away her tourist visa. Despite having spent ten years visiting her family in the United States, Carmen has never learned a word of English, nor does she care to. Her Mexican pride will bring her into different situations that will deeply embarrass her granddaughter Karina. Carmen will also be a very important element to maintain family cohesion.
Sofia Osorio/Ana Estupiñan (Karina Sullivan): Max and Eliza's daughter, Rodrigo's sister and Tomas' twin. Since childhood, Karina was very interested in learning and her studies. Ten years later, she becomes a beautiful and brilliant young lady, fully assimilated to the customs and way of life of the Americans. She somehow rejects the Mexican culture, which creates conflicts with her mother and Carmen, her grandmother. Her rejection is nothing more than a display of her fear that her classmates will discover that she and her family are undocumented. Her worst nightmare is that someday they could be deported. She's Alondra's best friend, whom she loves like a true sister. Her dream is to study a career in science at an Ivy League college in the U.S., but she is aware that is nearly impossible due to her undocumented migratory status in the country. The reunion with her father opens the doors to that world with which she has always dreamt of, but she debates in accepting it because of what it could mean to her mother. She begins a relationship with Demian, Steve's son, a very intelligent young man like her, but who has the very serious flaw of being racist.
Nicolas Sadovnik/Mauricio Novia (Tomás Sullivan): Unlike his sister Karina, Tomas is a boy who has his feet well on the ground. He knows well what his future prospects look like being that he is undocumented, but he doesn't let that affect him. He likes the Mexican neighborhood they live in and identifies with the other Latinos of his same age. He's a good boy who by his own convictions has stayed away from the neighborhood gangs. However, because of a bad decision and his desire to help his best friend, he ends up getting involved in one of them. He becomes the delivery boy of some gang members and takes drugs to a dealer in Hollywood. In those trips he meets Claudia, a beautiful young girl of his same age whose ambition is to become an actress.
Regina Orquin/Daniela Wong (Alondra Martínez): Alondra is Sofia and Ernesto's daughter. Her life has been marked by tragedy; she had to flee from her own father with her mother Sofia. Her and her mother's life has constantly been threatened by ruthless criminals. She's had to adapt to a world completely different from the one she knew as a child but, above all, she lost her mother in a brutal way, which marked her forever, turning her into a sullen girl who hides behind a mask of rudeness. Alondra is mad at the world and her only refuge is her adopted family. She loves Eliza as if she was her mother and is very grateful of everything she has done for her. She loves Tomas and Karina the same as if they were her blood siblings. When she discovers her mother is alive, her world will transform. For some time she'll maintain contact with Sofia covertly through a video chat website since no one can know she's alive, not even Eliza or her children. Alondra also has doubts on her sexual preferences but with the help of Karina, she takes the road to solving her questions.
Luis Antonio/Jonathan Freudman (Julián Martínez): The boy is the living image of his father, Ernesto, whom he admires like none other. When Sofia tries to flee with her children, Julian calls his father and tells him where they're hiding. Ernesto goes after them, Sofia is able to escape with Alondra, but Julian stays with his father. The pain Sofia feels for being separated from her son will accompany her throughout the story. Julian is sent by his father to study abroad. He'll reappear towards the end of the story and he has become an arrogant young man who, for years, has considered his mother a traitor.
Thamara Aguilar (María Hernández): Maria is Andres' wife and Santiago's mother. She's a good woman, but doesn't match her husband's ideals. They constantly clash due to Andres' altruistic work, because all she sees is the danger to which they are exposed. However generous what they do may be, it is also illegal and they could end up in jail. Despite this, she loves her family profoundly and always ends up giving in.
Fernando Flores/Alexis Vanegas (Santiago Juárez): He inherited from his father, his solidarity and desire to help others. Together, they manage a refuge for immigrants. This is where he met Raquel, a Central American immigrant with whom he fell in love with and had a son. Santiago has moved heaven, sea and land to legalize Raquel in the country. When Raquel finally has her last hearing before the judge who will grant her legal status, she has a car accident in which a pedestrian is injured. Even though it was not her fault, Raquel is arrested and deported before she can fix her immigration status.
© 2023 Latin Times. All rights reserved. Do not reproduce without permission.