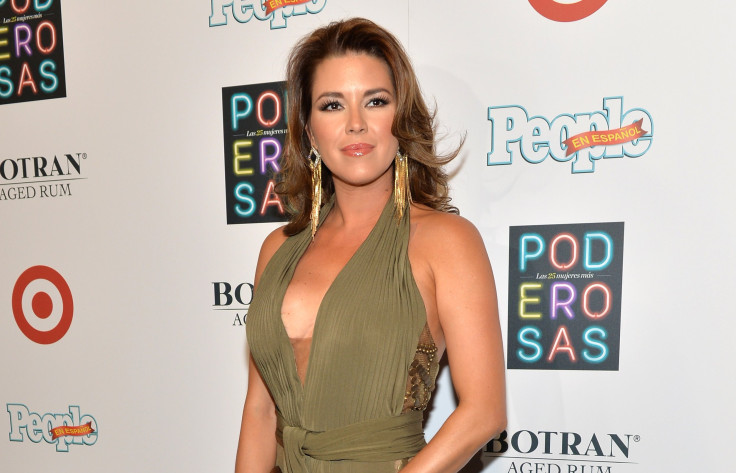 Late last year, former Miss Universe Alicia Machado made her opinion on presidential candidate Donald Trump very clear. "I want to vomit," she said after seeing a photo of the mogul up on screen. And now, she spoke to The New York Times to contribute to an in-depth article about Trump's behavior towards women titled "Crossing the Line: How Donald Trump Behaved With Women in Private."
Machado told the publication that after winning the Miss Universe title in 1996, she gained some weight and promptly asked the president of Miss Universe, who she describes as "a very sweet woman," for help to rest, recuperate and eat right, and even asked for a doctor to see her. "I asked them to bring me a doctor to help me — to have a special diet and get exercise, and they said yes. They took me to New York, installed me in a hotel," she recalled. "The next day, they took me to the gym, and I'm exposed to 90 media outlets." Machado also says Trump was there, so he clearly knew what was going to happen.
"I was about to cry in that moment with all the cameras there," she said of the humiliating moment. "I said, 'I don't want to do this, Mr. Trump.' He said, 'I don't care.'"
As usual, when Trump was asked if he had ever pushed Machado to lose weight, he nonchalantly admitted to it, "To that, I will plead guilty."
Machado described the humiliation as unbearable and said she became sick with anorexia and bulimia after the horrible incident; something she has been struggling with and seeing psychologists to treat for the past 20 years.
"I've been saying the same thing for 19 years and I am so happy that after so long people believe me. He's always been white trash, a racist, a horrible person. I worked with this man, for this man, for a year out of my life that I don't wish upon my worst enemy," Machado said on "Rica La Noche."
© 2023 Latin Times. All rights reserved. Do not reproduce without permission.