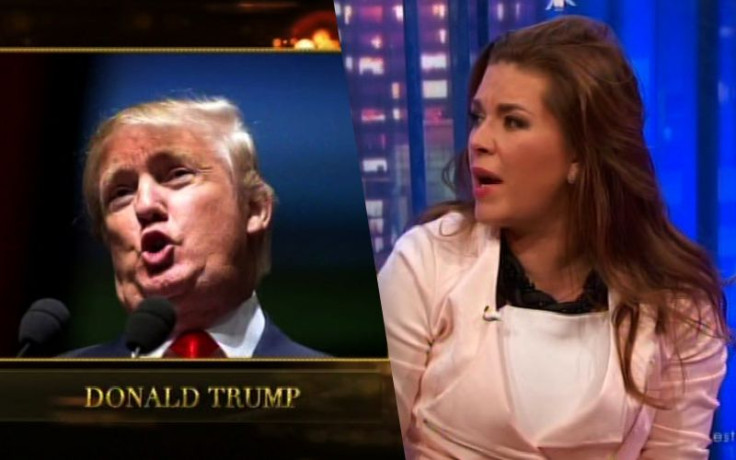 Alicia Machado was a guest on Estrella TV's "Rica La Noche" late night talk show that serves as a companion to "Rica Famosa Latina." The former Miss Universe titleholder had already made a shocking revelation about Luis Miguel earlier on and she did not hold back when Donald Trump came up. The girls were playing a raunchy game where fellow guest Luzelba Mansour had to guess what size "down there" were men that had been part of Machado's life. Although, the Republican presidential hopeful was not in a relationship with the "Lo Imperdonable" actress, he was her boss for a year.
"I want to vomit," Machado said as soon as Trump's photo came up on-screen. "Never in my life, the man would've liked to," she said in reference to Donald wanting to be intimately with the Venezuelan beauty. Alicia then added, "What I can say is that I've been saying the same thing for 19 years and I am so happy that after so long people believe me. He's always been white trash, a racist, a horrible person. I worked with this man, for this man, for a year out of my life that I don't wish upon my worst enemy."
Joyce Giraud, the host of the show, then asks her if Donald Trump tried to make a move on her. "Yes, me and everyone else," Machado answered. "That's why he bought Miss Universe, it was his private harem." Luzelba then eases up the conversation and compares Trump to Paquita La Del Barrio. They go on on to compare Donald's "parts" to an olive. Alicia says that she's not sure, because she would rather die than eat "that thing." Watch the moment and tell us what you think!
© 2023 Latin Times. All rights reserved. Do not reproduce without permission.