Police have arrested a New York woman who allegedly threatened to stab officers with a broken pipe used to smoke meth on Monday.
The suspect, 32-year-old Holly Mooney, was initially charged with menacing before cops slapped her with one count of resisting arrest after brandishing a broken glass pipe to police during her arrest, threatening to harm officers with the weapon, according to WIVB.
Jamestown detectives responded to reports of a suspicious person following a 911 call on Monday just before 4 a.m. They proceeded to remove the suspect from a back porch of a residence on the south side of Jamestown.
The owners of the home are said to not be acquainted with the woman, who authorities suspected to be high on drugs at the time of her arrest.
Mooney was later released on court appearance tickets, Fox News noted.
Meanwhile, a man apprehended on Friday for allegedly attempting to kidnap a 5-year-old child on a city roadside has now been charged with assaulting a police officer, according to the New York City Police Department (NYPD).
The alleged offender, James McGonagle, 24, is facing charges of attempted kidnapping and child endangerment and was arrested on Friday in connection with the incident.
He would later punch a cop in the face as they processed his charges, resulting in authorities hitting him with one count of assaulting police, WFLA reported.
McGonagle's kidnapping attempt happened around 8 p.m. in Richmond Hill, near the corner of Hillside and Myrtle avenues, where the suspect jumped out of a maroon car before quickly snatching a young boy and placing him in the back seat of the getaway vehicle.
Surveillance footage reveals the moment the incident unfolded. It shows McGonagle's accomplice sitting in the front passenger seat of the car before he moved to return in the driver's seat.
The boy's mother, Dolores Diaz, 45, would then use the opportunity to lunge at the passenger side of their vehicle and frantically pulled her son to safety through the front passenger window, authorities said.
Diaz and her two other children can be seen in the video rushing to the danger to help save the boy.
McGonagle and the other man then fled the scene, heading southbound on Hillside Avenue and then westbound on Jamaica Avenue. Police later tracked McGonagle down and arrested him.
Meanwhile, his accomplice, described to be in his 50s, remains on the run. He was last seen wearing eyeglasses, an orange shirt, blue jeans, and black shoes.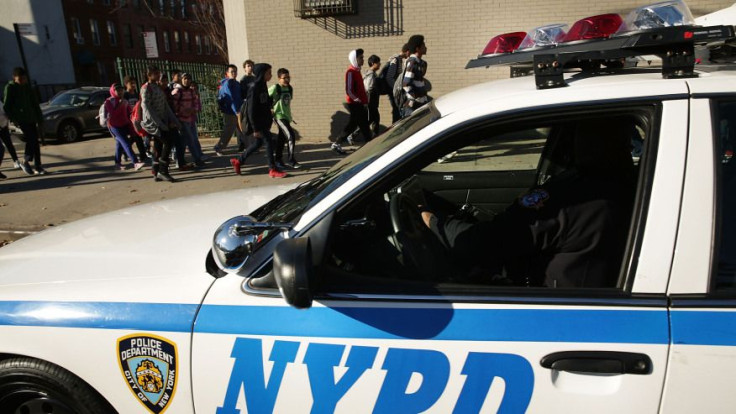 © 2023 Latin Times. All rights reserved. Do not reproduce without permission.