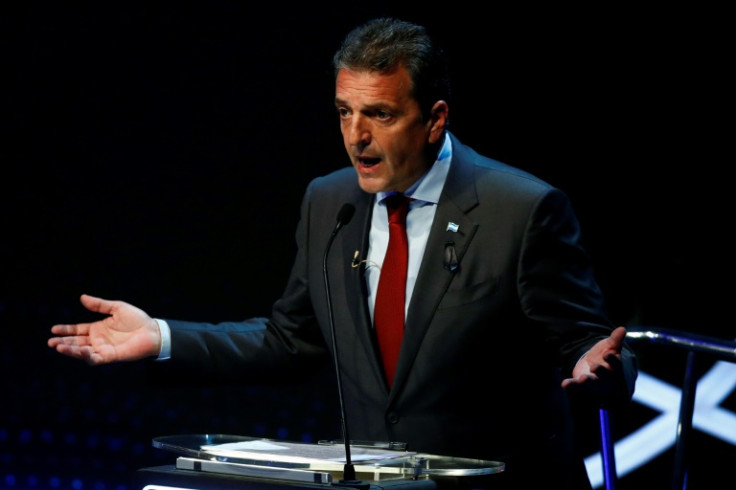 Argentina is headed to a runoff between Peronist Sergio Massa and Libertarian Javier Milei, after no candidate managed to get the necessary votes to claim victory in the first round.
With over 90% of the votes tallied, Massa, the current government's Economy Minister, in holds 36.37%, and Milei, the outsider economist who promised to dollarize the economy and get rid of the central bank, with 30.15% of the votes, according to Argentina's electoral authority.
Center-right opposition leader Patricia Bullrich came in third with 23.83% and was left out of what until now was a three-legged race. None of the two other candidates, centrist Juan Schiaretti and far-left Myriam Bregman, got over 10% of the votes.
"We haven´t achieved the goals we wanted for Argentina," said Bullrich. "Our values go beyond an electoral moment and one of defeat. We accept it. We'll be side by side with all Argentines in these tough times that are coming" she added. At the end of her speech, Bullrich seemed to anticipate she will stop leading the party: "Others will be the ones who move forward with these values and this path."
The result is a surprise when compared to August's primary elections, generally considered to be a nation-wide poll as the vast majority of the candidates are set before the voting. Back then, Milei came on top with almost 30% of the vote, while Bullrich's Juntos X el Cambio and Massa's Union X la Patria got 28%.
Milei, on his end, sought to quickly appeal to Juntos X el Cambio's voters and political leaders, saying that "two thirds of the electorate voted against criminals who mortgaged our future to stay a bit more in power." "I'm willing to start over to end with them. Despite our differences we need to understand that in front of us there is a criminal organization."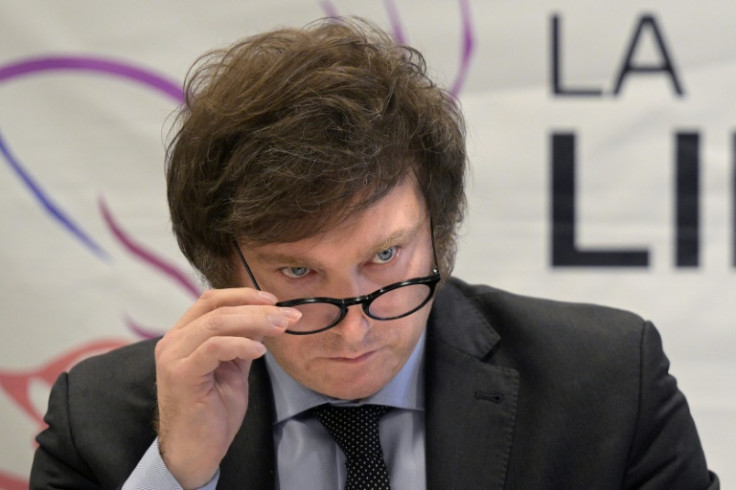 Massa managed to attract voters despite the economy being engulfed in chaos, with inflation running above 120% and an ever-devaluating parallel peso (the official being inaccessible due to currency controls). He campaigned by seeking to differentiate himself from the current government's woes and promising his administration would be different.
To woo voters, Massa has gone on spending spree, slashing income tax for much of the population in a move analysts say will only make the country's fragile financial situation worse. To counter Milei, his government has taken pains to explain to voters what a loss of key subsidies that keep public transport and electricity, among others, dirt cheap, will mean.
Economist Martin Rapetti told Bloomberg that Massa's performance rules out a sharp devaluation of the official exchange rate in the near future. "We're going to continue seeing high inflation and pressure on the exchange rate, but we're not going to see a full-blown currency crisis and hyperinflation, that's ruled out," he said.
Speaking after the results, Massa specified the votes he will target: "To those who cast a blank vote or voted for Schiaretti, Bregman, to thousands of members of the Union Civica Radical who share our democratic values such as public education, checks and balances: I will do my best to earn your trust."
"I will call for a cross-party government on December 10, one that's built on attracting the best, regardless of their political affiliation," he added.
The runoff will take place on October 19. In order to win in the first round, a candidate had to get at least 40% of the votes and a 10 point difference with the runner-up or 45% of the vote. The two candidates will engage in one debate before the runoff and whoever is elected will be inaugurated on December 10.
77% of eligible voters cast their ballots in the elections. While the figure was higher than the primaries' 70.43%, it was the lowest of all presidential elections since the return to democracy in 1983.
© 2023 Latin Times. All rights reserved. Do not reproduce without permission.