A suspected arsonist has been arrested over the weekend in connection with the massive Palisades wildfire, announced Los Angeles Mayor Eric Garcetti.
Authorities believe the suspect deliberately ignited the fire that has forced the evacuation of around 1,000 residents in California. The suspect has been confined at a local hospital, receiving medical treatment for smoke inhalation, as firefighters and police enter the third day of the firefight on Monday, May 17th.
The terrifying blaze started late Friday, May 14th, in the 1800 block of North Michael Lane, and it quickly exploded Saturday, May 15th, spreading northeast. The fire is continuing to burn as of Monday.
On Friday night, police helicopters allegedly caught sight of a person starting fires. Los Angeles Fire Department and Los Angeles Police Department investigators initially detained the unidentified person on Saturday.
Two people were questioned Saturday night about the fire, one eventually released, according to the Los Angeles Times. The suspected arsonist was booked on Sunday, May 16th afternoon.
"We did detain one person and release them, and determine that the first person was not a suspect," LAFD Fire Chief Ralph Terrazas disclosed in Monday's briefing. "The second person was arrested yesterday afternoon and is in custody."
The Palisades Fire has burned an approximate area of 1,325 acres and is only 23% contained as of early Monday evening. The fire has forced about 1,000 people in the Topanga area to flee their homes for hours.
Though there is no structural damage or major injuries, the wildfire is burning in an area that is very dry and has not burned in more than 75 years. So far, the firefighters have been able to hold the western edge of the blaze and keep the flames from crossing Topanga Canyon Boulevard.
"More than 540 firefighting personnel with the L.A. city and county fire departments and Cal Fire are battling the blaze together," Garcetti said.

Meanwhile, NBC reported an image of an unidentified man that had been shared on the Citizen App, claiming him to be the arson subject with a $30,000 reward on his whereabouts, according to the Daily Mail.
Los Angeles County Sheriff's Lieutenant Jim Braden said the unauthorized photos may have "disastrous" consequences because it could lead to someone getting hurt. The citizen-run app has since apologized and taken down the post.
"Once we realized this error, we retracted the photo and reward offer," the company said, claiming that the report came from a tipster.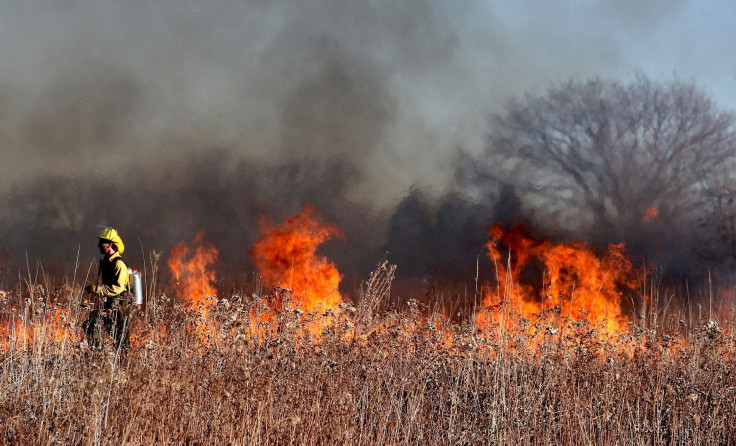 © 2023 Latin Times. All rights reserved. Do not reproduce without permission.