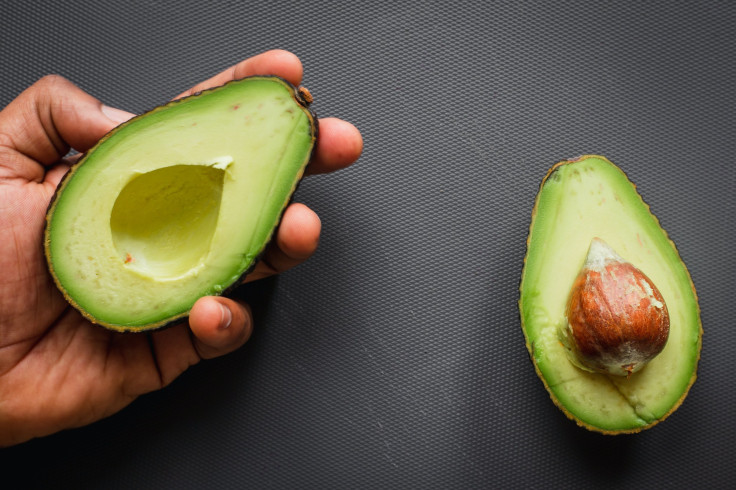 Did you know you can bake with avocados? Not only are they delicious but they are a good source of fiber, nutrient-dense, versatile fruit -- Yes! The avocado is actually a berry! -- that can be eaten alone or used in a variety of tasty recipes even desserts!
According to Avocados from Mexico, while avocados are often prepared and eaten like vegetables, funnily enough, avocados are biologically fruits. They are single-seeded berries from the same family as sassafras, the bay laurel, and various species of the cinnamon trees. "While avocados bear no relation to other berries such as blueberries, strawberries, and blackberries, from a botanical perspective, avocados are very much fruit," informed the company.
Saborea Uno Hoy shared with Latin Times that exists confusion whether they are vegetables or fruits because of their savory taste, their culinary use, and the fact that they don't fall neatly into either category of fruit. For example, while avocados are generally classified as berries as we mentioned, the existence of a fleshy endocarp is the tiny and bearing little resemblance to other berries, which is the final deciding factor that classifies them as a berry. However, there are also some sources that classify avocados as drupes.
Although avocados aren't necessarily what comes to mind first when you think of baking, you can definitely include this delicious fruit into your next baked good recipe to get additional nutritional benefits?
If you need some recipe inspiration, Saborea Uno Hoy, shared delicious and nutritious recipes using avocados.
Avocado Pumpkin Spice Cake
A simple and delicious dessert combining the beloved seasonal flavor of pumpkin spice with creamy avocado for a nutrient boosted tasty treat.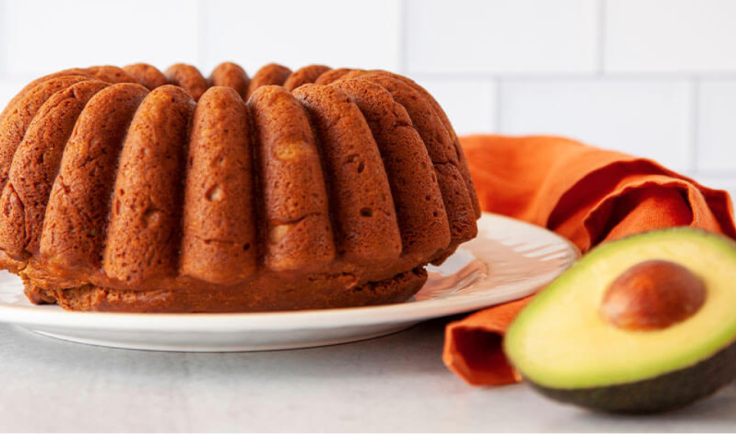 Ingredients:
1 2/3 cup all-purpose flour
1/3 cup almond flour
1 tsp. baking powder
1 tsp. baking soda
1/2 tsp. fine sea salt
3/4 cup sugar
1 cup pumpkin, pureed
1/2 cup ripe, fresh avocado, halved, pitted, peeled and pureed
2 large eggs
1 Tbsp. ground cinnamon
1 tsp. ground ginger
1/4 tsp. ground nutmeg
1/8 tsp. ground allspice
1/3 cup 2% milk
Dust of confectioner's sugar (optional)
Instructions:
Heat oven to 350°F with a rack set in the center.
Butter and flour a 10-cup bundt pan, making sure to get into all the cracks and crevices of the pan to prevent sticking.
In a medium bowl, whisk together the flours, baking powder, baking soda, and salt. Set aside.
In the bowl of a stand mixer fitted with the whisk attachment or in a bowl with a hand mixer, combine the sugar, pumpkin puree, avocado, eggs, and spices, mixing on medium-high for 2 minutes. Add the milk and stir.
Fold in the dry ingredients until well combined.
Spoon the batter into the prepared pan and tap on the counter a few times to release any large air bubbles.
Bake for 50 – 60 minutes or until a toothpick inserted into the center comes out clean.
Cool the cake in the pan set on a rack for 10 minutes, then invert the cake onto the rack to cool completely.
Dust with confectioner's sugar just before serving if desired.
Notes & Tips:
Store covered, at room temperature for 2 days.
Avocado Cinnamon Pecan Chocolate Chip Cookies
Looking to cut some of the butter and saturated fat you use in your favorite baked good recipes? Try using avocado. These delicious avocado chocolate chip cookies use about half butter and half avocado and have a rich, moist chewy texture.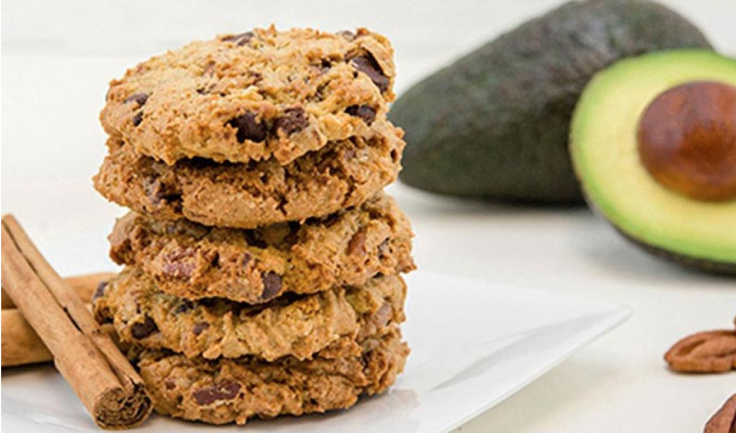 Ingredients:
2 1/4 cup flour
1/2 cup regular or quick-cooking oats
1 tsp. baking soda
1 tsp. salt
1 tsp. vanilla
5 Tbsp. butter or margarine
1/5 ripe, fresh avocado, halved, pitted and peeled
1 cup light brown sugar
3/4 cup sugar
2 large eggs
1 (12 oz. pkg.) chocolate chips (white, dark or milk depending on your preference)
1 1/2 cup chopped pecans cinnamon (to taste)
Instructions:
Preheat oven to 350 degrees.
Add all ingredients except the chocolate chips and pecans to a large mixing bowl stirring continuously until smooth.
Fold in chocolate chips and pecans to the mixture.
Using a small retractable ice cream scooper or spoon, scoop out 1/2-inch cookie rounds and drop onto an ungreased cookie sheet. Press down if you prefer.
Bake for eight minutes or until golden brown on edges. Note, cook time can vary slightly by the pan you use, so for the first batch set the timer for eight minutes to start and add more time in two-minute increments until the cookies appear to have a golden brown outer edge. Allow to cool and enjoy!
Notes & Tips:
Adding some butter or margarine to this recipe makes the cookies crispy on the outside and for a chewier cookie you may try replacing the butter all together for one whole avocado. Note - this may require a longer cooking time.
For added fun, this recipe can be modified to use macadamia nuts, walnuts, or other types of flavored chocolate chips and festive colored chips or sprinkles for the holidays.
Mexican Chocolate Avocado Cake with Chocolate Avocado Buttercream
The batter includes traditional flavors found in Mexican chocolate, almonds, cinnamon, and cocoa with the addition of avocado for creaminess and a substitute for butter/oil.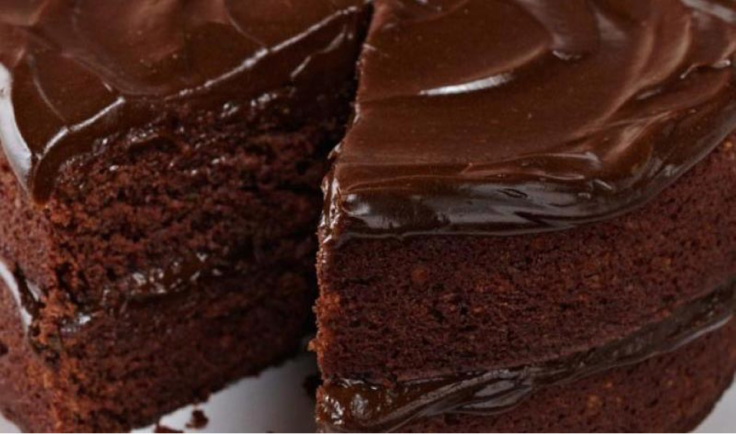 Ingredients:
For the Cake
2 Abuelita Mexican chocolate disks, chopped (if not available, substitute with 6 oz. of any high-quality chocolate)
4 Tbsp. cocoa powder
2 1/2 cups all-purpose flour
1/2 cup almond flour (almond meal) 2 tsp. ground cinnamon
1/2 tsp. salt
2 tsp. baking soda
2 tsp. baking powder
1/4 cup vegetable oil
2 cups of water
2 Tbsp. white vinegar
2 tsp. almond extract
1 ripe, fresh avocado, halved, pitted, peeled and mashed 1 cup granulated sugar
1 cup brown sugar
For the Buttercream
2 ripe, fresh avocados, halved, pitted and peeled 2 cups powdered sugar
4 Tbsp. cocoa powder
1/2 tsp. cinnamon
1 tsp. almond extract
Instructions:
1. Preheat oven to 350 degrees F.
2. Coat two 8" round baking pans with non-stick cooking spray and flour. Shake off excess flour.
3. Combine Mexican chocolate, cocoa powder and three tablespoons of water in a heat-proof bowl. Place bowl over a pot of simmering water, gently stir until melted and combined. Remove from heat.
4. In a large mixing bowl, combine both flours, cinnamon, salt, baking soda, and baking powder.
5. In another bowl, whisk together the vegetable oil, water, vinegar, almond extract, avocado, and both sugars.
6. Add the wet ingredients to the dry ingredients. Whisk until fully combined and smooth, scraping the side of the bowl completely.
7. Divide batter between both baking pans. Bake in preheated oven for 45 minutes, until a toothpick inserted into the center of the cake, comes out clean. Allow cooling completely before frosting.
8. For the Frosting:
9. Scoop avocados into a food processor, puree until smooth, about 2 minutes.
10. Add powdered sugar, cocoa powder, cinnamon, and almond extract. Puree for another 30 seconds until combined.
11. Assemble:
12. Lay the first cake on plate or cake stand. Scoop half of the buttercream on top and smooth to cover the surface with a butter knife or an offset spatula.
13. Place the second cake on top of the buttercream and repeat with the remaining buttercream.
Avocado Waffle Pops with Avocado Glaze
Fresh avocado adds nutrients, good fats, and a beautiful green to these delicious, fluffy, Belgium waffles. Add a stick and enjoy them on the go!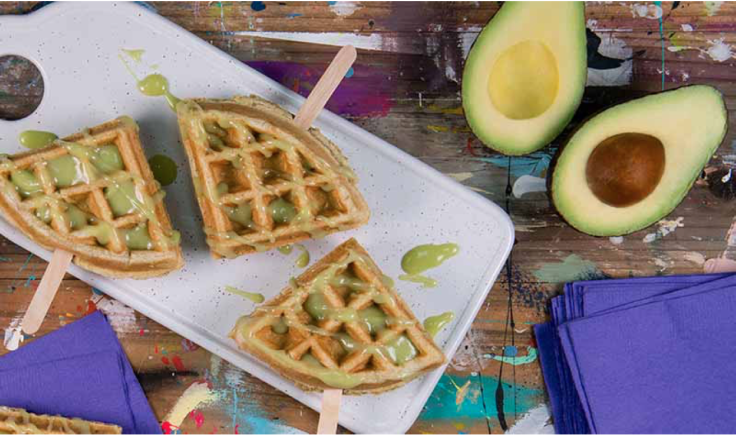 Ingredients:
Waffles:
2 eggs
1 cup all-purpose flour
1 cup whole wheat flour
1 3/4 cups non-fat milk
1/2 ripe, fresh avocado, halved, pitted, peeled and mashed
2 Tbsp. granulated sugar
4 tsp. baking powder
1 tsp. kosher salt
1 tsp. vanilla extract
Wooden sticks
Avocado Glaze:
1/2 cup confectioners' sugar
1 Tbsp. ripe, fresh avocado, halved, pitted, peeled and mashed
1 Tbsp. warm non-fat milk
Instructions:
Waffles:
Preheat Belgium waffle iron.
Whisk eggs in a large bowl until fluffy.
Add flours, milk, avocado, sugar, baking powder, kosher salt, and vanilla, and whisk until smooth.
Spray waffle iron with no-stick cooking spray.
Pour waffle batter onto waffle iron and cook according to manufacturer's directions until golden.
Cool slightly; separate into quarters and insert wooden sticks.
Avocado Glaze:
In a small bowl, whisk confectioners' sugar, avocado, and warm milk until smooth. Drizzle over waffle pops.
Tip: Reduce total calories in a recipe by substituting avocado for higher-calorie ingredients. Love One Today, created a handy downloadable (and free) cookbook which highlights recipes with avocado and healthy swaps for the heart.
Timing is everything when it comes to avocados. Here is a guide to ripening avocados:
Avocados do not ripen on the tree; they ripen or "soften" after they have been harvested. To speed up the avocado ripening process we recommend placing unripe avocados in a brown paper bag with an apple or banana for two to three days until they are ripe.
Why does this work? Find out here.
Once exposed to air, avocados can start to brown and that's just sad for the avocado and you. Luckily there's an easy fix! Here is a video on how to protect your uneaten avocado:
Recommended acidic agents to help prevent the avocado from oxidizing include, lime, lemon or orange juice, vinegar, tomatoes, or onion.
You are able to store fresh cut avocados and uncut avocados. Check out this page for more information on storing avocados and guacamole including why avocados oxidize.
© 2023 Latin Times. All rights reserved. Do not reproduce without permission.