Netizens recently chanced upon a heart-warming video of a mama bear doing parenting duties just right. And, it's been going viral ever since. For the uninitiated, a short clip of a mother bear trying to get her four rambunctious, absent-minded cubs across a busy road, was captured by a Winsted, Connecticut woman, who clearly got the animal's adorable maternal instinct. The rest, as they say, is history.
"First, I thought one baby had been struck by a car. I came back 15 minutes later to realize mama was simply trying to get all four babies to cross the street together! I can relate as a mom of four myself!" said the lady, as cited on ViralHog.
While the trending video might seem amusing at the start, it's clearly not an easy feat— the act of moving her cubs across the street one by one by picking up each baby in her mouth and pawing across to the opposite of the road is a lot challenging than expected if one gets around to the part of doing it.
What's more, the mama bear's struggles are evidenced each time a cub got a little adventurous when her attention was devoted to helping another little one get to the other side of the road. The cubs are spotted climbing poles, running around the road, pawing at mamma bear, and even attempting to run back to the original side of the street, hence compelling the mama bear to repeat the process all over again.
The worldwide web was flooded with remarks as to how the bear aptly understood and acted on her maternal instincts all through the video. The cubs, quite like most young kids, were adorably unrelenting and totally oblivious to the efforts that were being put to get them on the right track—quite literally. Their antics reminded many adults of kids and the joy of raising and protecting your little ones, irrespective of how tedious and thankless a job it may seem.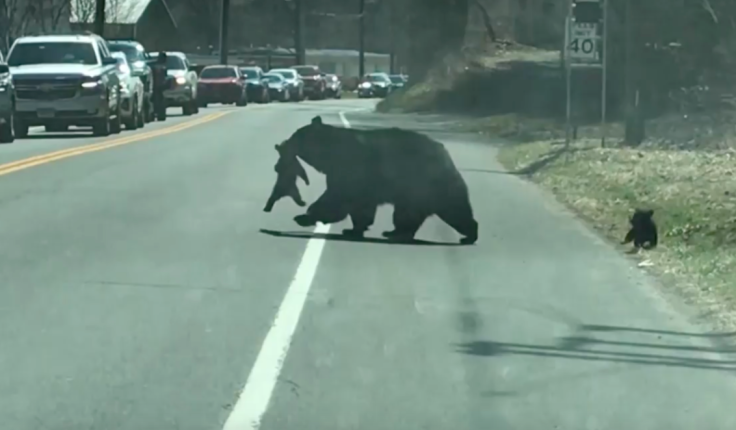 © 2023 Latin Times. All rights reserved. Do not reproduce without permission.