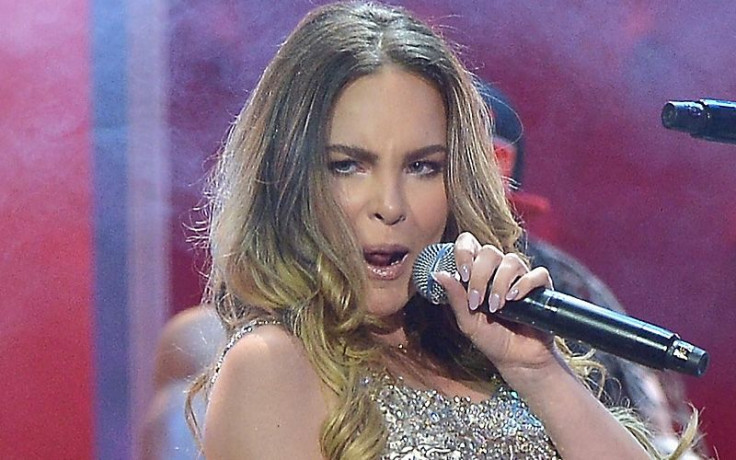 No matter how grown Belinda is, the past continues to haunt her. The 26-year-old singer was recently at a presentation in Tabasco, Mexico. Fans seemed to be requesting an old favorite song called "El Baile Del Sapito." This tune is from the telenovela "Cómplices Al Rescate" where Belinda starred in when she was a kid where she played a young banda singer. "El Sapito" is one of the most remembered songs from the series and continues to play at birthday parties and at Belinda concerts as well.
RELATED: See The Funniest #LadySapito Memes
A moment from her latest presentation went viral where the performer looks annoyed to even be asked to play that song. "Is it serious," she asks to a cheering crowd. "Seriously, having so many songs, so many years in the business, you'll always ask for 'El Sapito?'" Belinda, seemingly bothered, crouches, puts her head down for a moment and stares out at the audience. Watch the clip below and tell us what you think!
Como cuando Belinda vino a Tabasco y le pedíamos el sapito
Ella entendió otra cosapic.twitter.com/4MiFjkx78W#trolltab

— Lic Inundeishon (@inundeishon) May 9, 2016
However, this is not the first time that Belinda resorts to a similar stance. In a video found on YouTube from de León Fair earlier this year, Belinda seems reluctant to sing "El Baila Del Sapito" again. After listening to the crowd chant "El Sapito," the singer has no other choice but to perform the song. With a mariachi band in the back, Belinda misses no beat at dancing to the fan favorite tune.
Similarly, in a presentation in Pachuca she does the same bit again. "It follows me," she says referring to "El Sapito." "This songs follows me. Do you know what song it is? It's a song I used to sing in a novela with those curls that bounced every time I jumped and dance." The audiences cheer as Belinda shows off the way she dances as a young girl. She is then left with no option to sing the song once again.
It is now a recurring bit of Belinda refusing to sing the song, but ultimately performing it anyway. Fans love it and it brings back memories for all those adults (now) that grew up watching her telenovela. Watch down below Belinda's performance from when she was a young girl singing "El Baile Del Sapito."
© 2023 Latin Times. All rights reserved. Do not reproduce without permission.