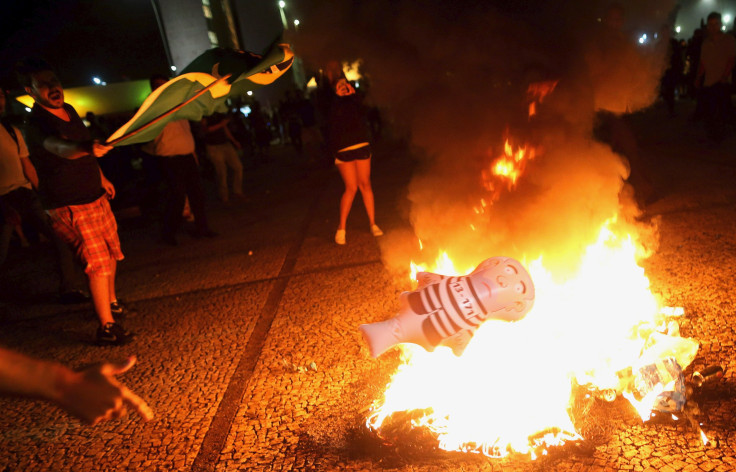 Former Brazilian president Luiz Inacio "Lula" da Silva has become the central knot in the tug-of-war over the political future of the country. In a victory for president Dilma Rouseff's political foes, a judge has halted her appointment of Lula as chief of staff, a position that would provide him some legal cover against an ongoing money laundering investigation. The lava jato (car wash) scandal centered on corruption in Brazil's state-run oil company Petrobras has rocked the country for months. Curitiba judge Sérgio Moro suspended the appointment, writing that Rouseff's appointment "implied a direct intervention in the organs of judicial power," according O Globo.
Behind the battle over Lula's appointment are his plans to run for president again in 2018, and the calls in congress and on the streets for Rousseff to be impeached. In anticipation of Lula's appointment on Wednesday night, pro-government and anti-government demonstrators clashed on the streets in major Brazilian cities. Supporters of Rouseff, Lula, and their Worker's Party (PT) liken calls for impeachment to coup, evoking memories of a right-wing dictatorship that literally tortured Rouseff in her youth. Little to no evidence has tied Rouseff to the Petrobras corruption scandal, despite her being the organization's executive at the time. Leftist leaders across Latin America have shown their support for Lula, who is largely credited for reducing poverty across Brazil.
Opponents of PT see Rouseff and Lula as communists wrapped in corruption and embracing impunity. In a sense, the second major bribery scandal involving members of the PT under Lula. Rouseff's appointment of Lula to the cabinet has deepened this resentment, as has a leaked audio recording. In the recording, Rouseff tells Lula she's sending him "the paper so that we have it, it's just in case we need it, which is the term of induction," induction (posse) being a word closely identified with the swearing in as Chief of Staff. Adding to the opposition movement's discontent is a deepening recession, rising unemployment and a heated partisan divide in Brasilia.
© 2023 Latin Times. All rights reserved. Do not reproduce without permission.