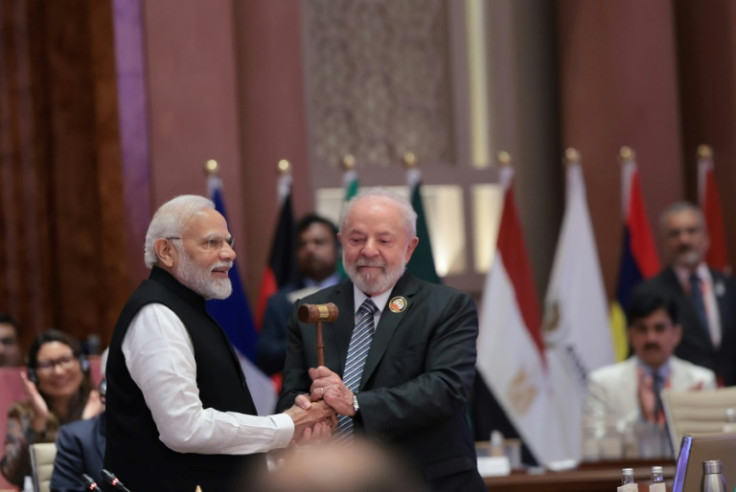 India has handed over the baton of Group of 20 (G20) presidency to Brazil and Brazilian President Luiz Ignacio Lula da Silva said Russian President Vladimir Putin will not be arrested if he decides to attend next year's Group of 20 (G20) Summit.
In an interview with Firstpost published Sunday, Lula said if Putin makes the Rio trip next year, "there's no way that he'll be arrested" as long as Lula is president. He also emphasized that if the Kremlin leader gets arrested in Brazil without the Brazilian government's authorization, it would be a "disrespect" to the country's people. "You have to take seriously the country, Brazil, and its independence," he said.
Brazil is taking over the G20 presidency from India. Indian Prime Minister Narendra Modi said his government would provide "all possible cooperation" with Brazil as it leads the G20 next year.
Lula's comments came after Putin skipped the G20 Summit held over the weekend in New Delhi. In March, the International Criminal Court (ICC) issued an arrest warrant for Putin for his alleged responsibility in "the war crime of unlawful deportation of population (children) and that of unlawful transfer of population (children) from occupied areas of Ukraine to the Russian Federation."
After the warrant was issued, Kremlin spokesperson Dmitry Peskov said the Russian government does not recognize the ICC. "We do not recognize its jurisdiction," he said.
Relations between Russia and Brazil date back to the late 1820s, but bilateral ties started expanding during the1980s. Bilateral trade between the countries reached $9.8 billion last year, as per Brazilian government data.
This year marked Russia's second consecutive absence from the G20 Summit. Putin's absence last year followed Russia's invasion of Ukraine that rages on 19 months on.
Lula told Time in a 2022 interview – ahead of the 2022 Brazilian presidential election – that while Putin "shouldn't have invaded Ukraine," he isn't the only one "guilty" of triggering the war. "The U.S. and the EU are also guilty. What was the reason for the Ukraine invasion? NATO? Then the U.S. and Europe should have said: 'Ukraine won't join NATO.' That would have solved the problem," he said at the time.
Lula noted that he criticized Putin's "mistake" of invading Ukraine, but said that he felt Ukrainian President Volodymyr Zelensky's behavior was "weird" as he appeared to be "waging a political campaign" instead of being at the negotiating table with Russia.
The G20 conference concluded with "softer" wording against the war. Observers noted that the 2023 Declaration did not explicitly single out Russia for its Ukraine invasion, as opposed to the more straightforward language used in the 2022 Declaration that clearly stated "most members strongly condemned the war in Ukraine."
© 2023 Latin Times. All rights reserved. Do not reproduce without permission.