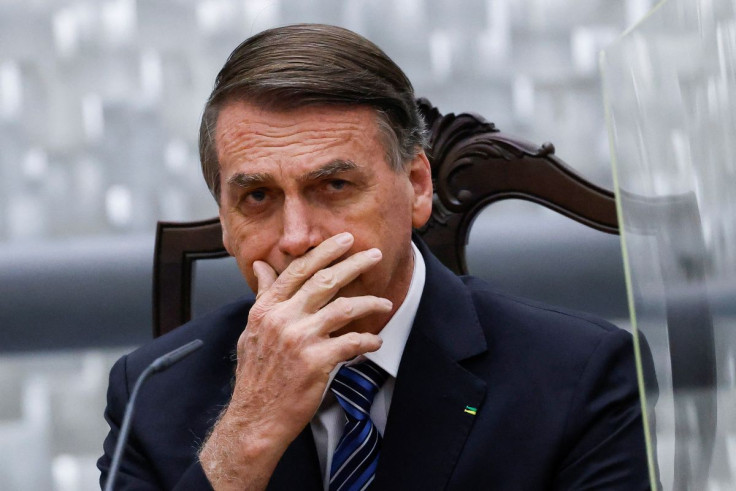 Former Brazilian President Jair Bolsonaro lost his re-election bid last year and is currently in self-imposed exile in America. But that hasn't stopped him from presenting his latest project - merch.
Among the things that are being offered are wooden chopping boards, coffee cups and beer glasses. The Bolsonaro Store website offers his fans the chance to invest in his political future and take home a Bolsonaro-branded commemorative keepsake, reported Reuters.
A wooden desk statuette that features Bolsonaro's silhouette reads, "Our dream is more alive than ever."
The former President's son, Eduardo, announced the new project on Instagram. He said that the idea was not just a business, but also to "keep alive in the memory everything that was done during the Bolsonaro presidency".
He said that the "most charming" product on the site was a wall calendar that featured iconic pictures of his dad from the last four years.
His father's move into merch is his latest attempt to channel his idol former U.S. President Donald Trump''s success, at monetizing the support of his followers.
Trump's "Make America Great Again (MAGA)" baseball cap has become a symbol of his nationalist movement. It's also a valuable revenue stream for the Trump empire.
Bolsonaro, who has been staying in Florida since before the end of his term, which finished on Jan. 1, has refused to concede defeat. He faces mounting legal jeopardy in his home country in various criminal and electoral investigations.
He allegedly incited the Jan. 8 riots when far-right radicals stormed government buildings to protest the 2022 election in Brazil. They falsely claim that it was rigged.
According to Brazilian Report, the office of the Brazil government's chief of staff issued an order on Monday morning. Three people were sent to provide security for Bolsonaro in the U.S.
The permission for the three men as guards runs until March 15. It suggests that he could return to Brazil on that date.
He is currently in the U.S. on a tourist visa, which allows him to stay in the country for at least six months.
Over the past few weeks, he delivered a few lectures in Florida.
© 2023 Latin Times. All rights reserved. Do not reproduce without permission.