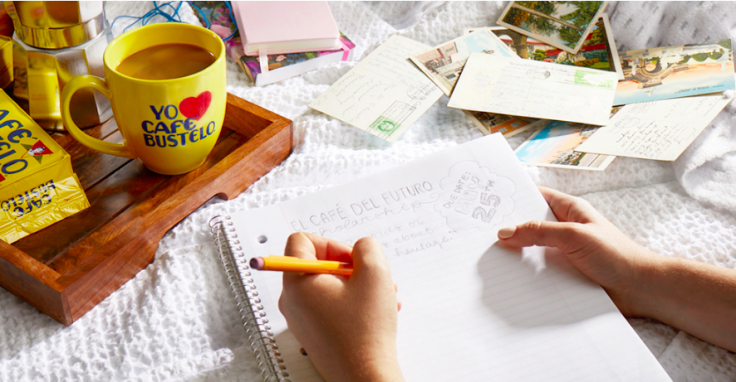 Café Bustelo has launched once more "El Café del Futuro" scholarship to support Latinx college students in their journey to obtain higher education. With student loan debt ranking second highest in the consumer debt category - a discouraging fact no doubt - Café Bustelo has committed itself to provide financial support to those Hispanic students with a relentless motivation to obtain a college degree.
In its fifth year, the program is for eligible U.S. students. If your application is approved you can receive one of ten $5,000 scholarships, and all you have to do is write an 800-words or less essay describing how your Latinx heritage, family, and community have impacted your desire to obtain a college degree; how you plan to give back to their community; and what you intend to accomplish with your degree.
All eligible applications must be received by Friday, May 25, 2018, at 11:59 p.m. ET, and recipients will be announced on or around September 15, 2018. For complete information and guidelines, please visit here.
To date, Café Bustelo has awarded $180,000 in college scholarships to 36 Latino students nationwide like Marlon Gaytan Jr. from Daly City, California. Inspired by his family's values of self-sufficiency, ambition, and discipline—or as he coins it, the "Guatemalan Grit"—Gaytan worked tirelessly to become an industrial engineering student at California State Polytechnic University (CSPU).
Driven by his family's strength, as he faced many economic limitations in pursuit of an education, Gaytan enrolled at Skyline Community College where he coordinated 75 student body activities as the activities commissioner of the student government. Relying on close mentors and available academic resources, Gaytan ultimately transferred to CSPU and became a member of Lambda Theta Phi Latin Fraternity, Inc., in which he upholds the values of Latino empowerment and leadership through service and academic excellence.
Maria Perez from Soledad, California also received a scholarship. Having grown up in a town plagued by gang violence and drugs, Perez made an early choice to alter the course of her life for the better. Receiving assistance from Youth Alive, a local non-profit organization located in Salinas, California, Perez realized early on the importance of obtaining a college degree in order to give back to her community and help others the way she was helped. With a dream of becoming a social worker and working with at-risk youth, her hope is to not only grow underprivileged children into successful adults but to also grow their parents into strong, reliable support systems for them.
Another winner was Rosa Maldonado from Los Angeles. As a first-generation college student, Maldonado always swore by the words of her mother, "Education is an escape from poverty." Inspired by her father's experience as a refugee of the Guatemalan War, Maldonado pursued an undergraduate degree in Chicana/o and Central American Studies, with the intent of uncovering what social and political occurrences took place during the Guatemalan War.
With the help of a close mentor, Maldonado worked diligently to obtain a summer fellowship at the University of Pennsylvania through the Leadership Alliance Mellon Initiative. Through this experience, she hopes to become a mentor to other disadvantaged students one day, helping them find networking opportunities and access programs with long-term career benefits.
© 2023 Latin Times. All rights reserved. Do not reproduce without permission.