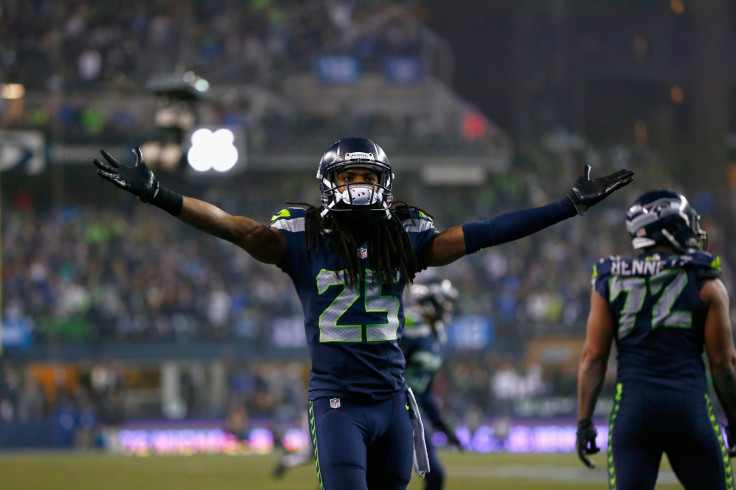 The Seattle Seahawks and Carolina Panthers will do battle on Sunday Night Football this week in a much anticipated NFC matchup. These teams have created quite a rivalry over the last few years. Although the records are extremely different, you can bet this is going to be a close game.
Seattle Seahawks (7-3-1)
The Seahawks had a pretty disappointing loss last week against the Tampa Bay Buccaneers, but they're still in control of the NFC West. As a matter of fact, the Seahawks are the only team that even has a winning record in the division.
Pete Carroll's squad is a perfect 5-0 at home this year. It doesn't look like the Seahawks will be able to overtake the Dallas Cowboys for the No. 1 seed in the conference, but they currently have a bye week in hand with the No. 2 seed. Russell Wilson clearly isn't his mobile self this season, but Jimmy Graham already has 101 more receiving yards and twice as many touchdowns this year than he had all of last season.
Still, it all starts with defense for the Seahawks. Richard Sherman's unit has the No. 1 ranked scoring defense in the NFL yet again. They remember what the panthers did to them last season; beat the Seahawks in the regular season and postseason.
The Seahawks play the Green Bay Packers next week.
Carolina Panthers (4-7)
The Panthers have been by far one of the most disappointing teams in the league this season. Last year they made it all the way to the Super Bowl, but at 4-7, they hardly resemble last year's squad. To make matters worse for the Panthers, linebacker Luke Kuechly will not be playing because of a concussion.
If the Panthers are going to go into Seattle and steal a victory, Cam Newton is going to have to resemble last year's MVP. At 4-7 the Panthers pretty much have to win out to even think about a playoff spot. Even if the Panthers win out, thus giving them a 9-7 record, they need a lot of luck from other teams losing.
The Panthers play the San Diego Chargers next week.
Schedule
The Panthers and Seahawks will play each other on Sunday night at 8:30 p.m. ET on NBC. The game will be played at Century Link Field in Seattle, Washington. You can watch a live game stream here.
Prediction
The Panthers need this game a lot more than the Seahawks do, but Seattle is just better. Considering they are coming off a bad loss and they have home-field advantage, the Seahawks should be able to improve to 8-3-1. With this loss, the 2016 Panthers season will be over.
Seahawks win 23-20
© 2023 Latin Times. All rights reserved. Do not reproduce without permission.