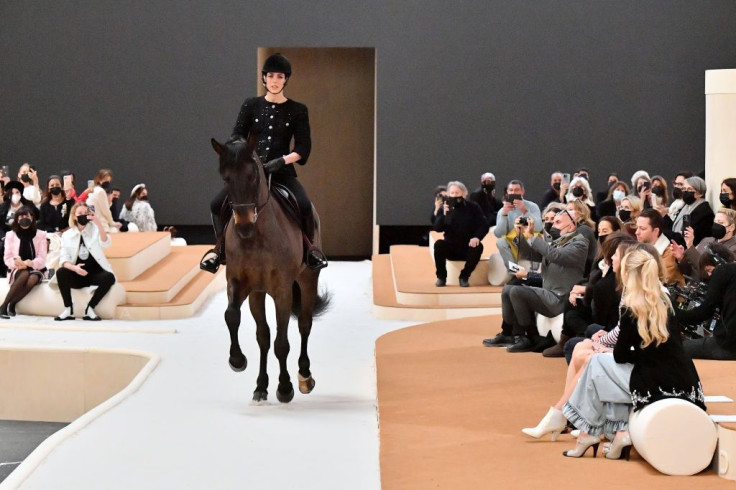 Hollywood legend Grace Kelly's granddaughter, Charlotte Casiraghi made a surprising grand entrance on horseback at the Chanel show held in the Grand Palais Éphémère as part of the Haute Couture Week in Paris.
Chanel hosted its Spring/Summer 2022 show on Tuesday, releasing its latest collection in dramatic style at Couture Week. The 35-year-old accomplished equestrian and Monaco royal also niece of Prince Albert II took centerstage riding on her steed -- an eight-year-old Spanish bay horse named Kuskus. Casiraghi was wearing a sparkling black tweed Chanel jacket paired with a black helmet, riding pants and boots. She is the elder daughter of Princess Caroline of Monaco.
Casiraghi has joined in the sport's global champions tour and has been actively involved in equestrianism in Monaco. She represented a head-turner modern Chanel woman during the runway show. She was announced as a Chanel brand ambassador in 2020. She was also pictured wearing the fashion brand at her 2019 wedding to Dimitri Rassam.
Instead of the usual models of the late Chanel creative director Karl Lagerfeld, a horse was delivered down the runway. Chanel couture collection has been known to execute a one-of-a-kind runway look. It includes the French fashion house's Fall 2015's casino-themed set with backgammon tables and the Spring 2016 garden of delights.
For spring 2022, Virginie Viard, the current creative director of Chanel offered her own version of a mind-blowing moment by jump-starting the runway show with a fashionable royal appearance. Famous personalities spotted in the front row included the fashion elites, Anna Wintour, Pharrell Williams, Margot Robbie, Sofia Coppola and more.
In a promotional video produced ahead of the show, Casiraghi shared that the use of horses was in line with the story of Chanel and its founder. "I immediately think of the story of Chanel and Gabrielle Chanel," Casiraghi added. "Horses and riding were extremely important, if not instrumental, in her vision of the brand."
The event's most highlighted set which featured what Chanel called "equestrian curves," was designed by French artist Xavier Veilhan. In Chanel's promotional video, Veilhan stated that he and Viard wanted the models and clothes to "contrast with the beauty of the rider and horse."
However, fans' mixed reactions followed, while few appreciated the artistic idea, some also criticized the use of an animal in a commercial setting.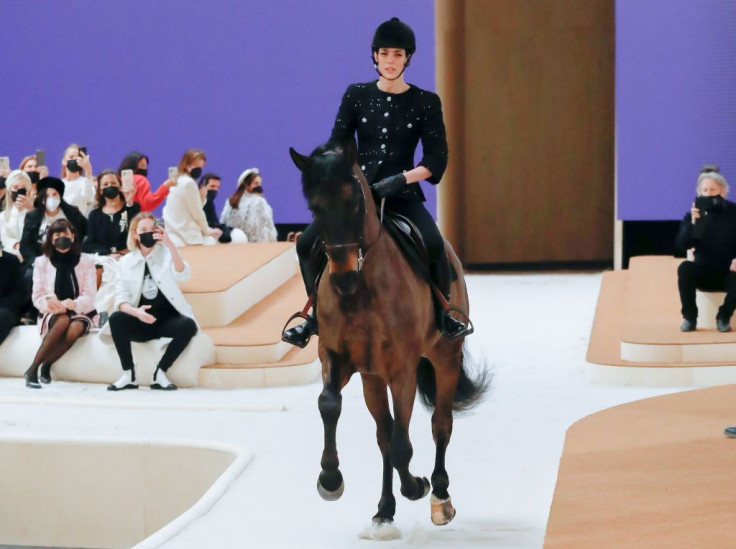 © 2023 Latin Times. All rights reserved. Do not reproduce without permission.