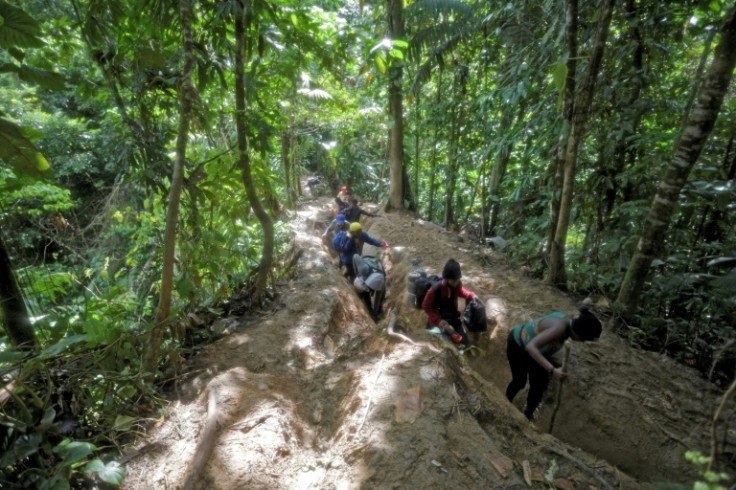 More than 60,000 children have risked their lives to cross the dangerous Darién Gap jungle pass so far this year, with half of them found to be below the age of five, the UNICEF report said. Expressing concern over the increasing number of youngsters crossing the treacherous stretch of jungle that connects South and Central America, the UN's Children's Fund noted at least 92 migrant children died or went missing last year.
"When they [children] cross several countries and sometimes the entire region, disease and injury, family separation and abuse may plague their journeys and, even if they make it to their destination, their futures often remain at risk," Garry Conille, UNICEF Latin America and the Caribbean director, said in the report.
An estimated 39 million children in Latin America and the Caribbean face dual threats of poverty and extreme weather. In addition, one in three children was grappling with conflicts in the region.
Marred by climate change and economic crisis, the proportion of children in the world's migrant population has surged in recent years. While they make up 13% of the global migrant population, it has climbed to an astounding 25% in Latin America and the Caribbean -- the highest in the world. Notably, 91% of the children who migrate through such detrimental routes are under the age of 11.
One such route is the Darién Gap -- a 66-mile roadless stretch covered by dense swamp and mountainous jungle. Panning the border of Panama and Colombia, it is filled with armed guerrillas, drug traffickers, and deadly animals.
At least 40,000 children crossed the treacherous Darien Gap in 2022, a major rise from 29,000 in 2021. Pushed by economic and humanitarian uncertainties, these children navigate through irregular migration routes, while facing innumerable risks, including violence, exploitation, and abuse.
In conclusion, Conille called for a "stronger humanitarian response" and "expansion of safe and regular migration pathways" for vulnerable populations in order to protect their rights.
"The unprecedented scale of the child migration crisis in Latin America and the Caribbean urgently requires a stronger humanitarian response as well as the expansion of safe and regular migration pathways for children and families to help protect their rights and their futures, no matter where they are from," Conille added.
The UNICEF also called for more funding to "meet the humanitarian needs of refugees and migrant children" in vulnerable nations.
The report pointed out that the number of refugee and migrant children captured at the southern border of the U.S. has also increased drastically. According to the U.S. Customs and Border Protection, more than 83,000 children entered the country in the first seven months of 2023. Currently, there are more than 10,000 children, who crossed the southern border illegally, in the shelters of the U.S. Department of Health and Human Services.
© 2023 Latin Times. All rights reserved. Do not reproduce without permission.