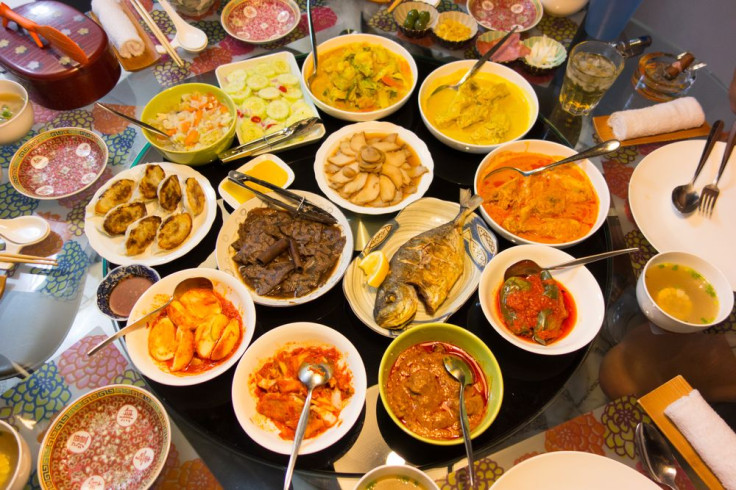 The Chinese New Year is almost upon us and to initiate the year of the monkey, we've compiled delicious recipes for the celebration! Chinese New Year celebrations come at a perfect time, not only is there nothing but snow and ice on the ground, we still have a few more weeks of winter to endure before spring starts to peek through, so what better way to celebrate the Year of the Sheep than with delicious and belly warming dishes that are not only easy to make, but are seeped in centuries worth of culture and tradition. Check out our round up of 4 recipes for Chines New Year that are not only traditional but are surprisingly easy to make, eat and serve.
Beijing Lamb Stew
This recipe is from The Shun Lee Cookbook and while lamb may be the top ingredient in Chinese cuisine, this stew is wholly authentic. If any of the ingredients are too difficult to find at your local supermarket, than swap them out for a similar alternative. For example, Chinese dried black mushrooms can be easily substituted with more readily available shitake mushrooms.
Ingredients
1-pound boneless lamb breast, chopped into 1-inch cubes
Vegetable oil, for deep-frying, plus 1/4 cup
2 ounces (about 1 1/2 bunches) dried soybean threads
2 scallions, white part only, trimmed and sliced into 1-inch pieces
One 1-inch piece peeled fresh ginger, cut into pieces 1/2-inch square and 1/4 inch thick
2 small dried hot red chilies
2 tablespoons rice wine or dry sherry
2 whole star anise
One 1 1/2-inch piece of cinnamon stick
3 tablespoons soy sauce
1/4 cup smashed rock sugar, or 2 tablespoons white sugar plus 2 tablespoons brown sugar
1 medium carrot, peeled and cut into 1 1/2-inch-long wedges
6 Chinese dried black mushrooms (about 1/2 cup), soaked, trimmed, each mushroom cut into 3 pieces
1 cube red fermented bean curd, optional
Directions
Bring a large saucepan of water to boil over high heat. Add the lamb and cook to remove some of the surface fat, about 3 minutes. Drain in a colander. Place the lamb on a plate and set it aside. Clean the saucepan, fill it with water, and bring it to a boil over high heat. Keep the water boiling so it is ready for the bean threads. Heat a large wok over high heat. Add enough oil to come about 1 inch up the sides of the wok, and heat it 325°F. Carefully add the bean threads, and cook until they turn golden brown, about 10 seconds. Using a wide mesh strainer, transfer them to the boiling water, turn off the heat, and let them soak until softened, about 1 minute. Drain in a colander. Place the bean threads on a cutting board, cut them into 1 1/2-inch-long pieces, and set them aside. Discard the oil from the wok. Add 1/4-cup oil to a flameproof casserole or Dutch oven and heat over high heat. Add the scallions, ginger, and dried chilies, and stir-fry until they are fragrant, about 15 seconds. Add the lamb and stir-fry until the lamb is browned, about 2 1/2 minutes. Stir in the rice wine, star anise, and cinnamon stick, then they soy sauce, rock sugar, and 3 cups of water, and bring to a boil. Reduce the heat to medium-low. Cover the wok and simmer at a gentle bubble for 40 minutes. Add the bean threads, cover, and continue simmering for 20 minutes. Add the carrot, mushrooms, and fermented bean curd, if using, to the wok. Mash the bean curd on the side of the wok and stir it into the sauce. Simmer, covered, for 15 minutes, until the lamb and carrots are tender. (The stew can be made up to 1 day ahead, cooled, covered, and refrigerated. Scrape off and discard the solidified fat from the surface. Reheat gently before serving.) Skin off and discard the fat from the surface of the sauce. Remove the star anise, cinnamon, and chilies, and serve hot.
Shanghai Soup Dumplings
This recipe comes to us from Bon Appetit and while they are certainly a lot of work, these delicious little pockets of goodness are traditionally said to bring you wealth and luck in the New Year, isn't that worth a little extra elbow grease?
Ingredients
For The Soup
10 cups plus 3 tablespoons (or more) water
2 3/4 to 3 pounds chicken wings, backs, and necks
2 1/2 ounces Chinese-style cured smoked ham or Smithfield ham, cut into 4 slices
3/4 cup coarsely chopped green onions (white parts only)
2 (1-inch-diameter 1/2-inch-thick) slices peeled fresh ginger
1 whole dried shiitake mushroom
1 large garlic clove, flattened
1-tablespoon soy sauce
2 teaspoons Shaoxing wine (Chinese rice wine)
1 tablespoon unflavored gelatin (from 2 envelopes)
For The Sauce
1 cup black vinegar
6 tablespoons soy sauce
2 tablespoons very thin matchstick-size strips peeled fresh ginger
For The Filling
1 pound ground pork
1/4 pound peeled deveined uncooked shrimp, finely chopped
1/3 cup finely chopped green onions (white parts only)
3 tablespoons sugar
2 tablespoons soy sauce
1 large garlic clove, minced
3/4 teaspoon salt
1/2 teaspoon ground black pepper
1/2 teaspoon finely grated peeled fresh ginger
1/2 teaspoon Shaoxing wine (Chinese rice wine)
1/4 teaspoon Asian sesame oil
For The Dumplings
75 (about) 3-inch square or round dumpling wrappers (from two 14-ounce packages)
1 large head of Napa cabbage, leaves separated
Directions
Look for the ingredients and supplies featured here at an Asian market or online at adrianascaravan.com: Chinese-style cured smoked ham (or use Smithfield ham), dried shiitake mushrooms, Shaoxing (also spelled Shao Hsing) wine, black vinegar, dumpling wrappers (don't use wonton wrappers; they are too thin), and bamboo steamer sets. Combine 10 cups water and all remaining soup ingredients except gelatin in large pot. Bring to boil, spooning off any foam that rises to surface. Reduce heat and simmer, uncovered, until chicken pieces are very soft and beginning to fall apart, adding more water by cupfuls if necessary to keep chicken submerged, about 2 hours 30 minutes. Strain soup; discard solids. Return broth to same pot. Boil until reduced to 2 cups, about 35 minutes. Season with salt and pepper. Pour 3 tablespoons water into small bowl; sprinkle gelatin over. Let stand until gelatin softens. Add to hot broth; stir until gelatin is dissolved. Transfer to 13x9x2-inch glass dish. Cover; refrigerate aspic overnight. Mix 1 cup black vinegar, 6 tablespoons soy sauce, and 2 tablespoons fresh ginger strips in small bowl. DO AHEAD Can be made 1 day ahead. Cover and refrigerate. Bring to room temperature before serving. Combine all filling ingredients in large bowl and mix with fork just until blended. Cut aspic into 1/3-inch cubes. Add aspic to pork mixture; stir gently with wooden spoon just until incorporated. DO AHEAD Can be made 1 day ahead. Cover and refrigerate. Line 2 rimmed baking sheets with parchment paper. Place 1 dumpling wrapper on work surface. Spoon 1 very generous teaspoon filling onto center of wrapper, including at least 2 or 3 aspic cubes. Lightly brush edges of dumpling wrapper with water. Bring 1 corner of wrapper up around filling, then pleat remaining edges of wrapper at regular intervals all around filling until filling is enclosed and wrapper forms bundle-like shape with small opening at top. Gather top edges of wrapper together and twist at top to enclose filling. Place on baking sheet. Repeat with remaining wrappers and filling. DO AHEAD Can be refrigerated, covered, for 1 day, or frozen in single layer in covered containers for 2 weeks. Line each layer of bamboo steamer basket with cabbage leaves; place over wok filled with enough water to reach just below bottom of bamboo steamer basket. (Or line metal steamer rack with cabbage leaves and set over water in large pot.) Place dumplings atop cabbage, spacing apart. Bring water to boil. Cover; steam until cooked through, adding more water to wok if evaporating too quickly, about 12 minutes for fresh dumplings and 15 minutes for frozen. Serve dumplings immediately, passing sauce alongside for dipping.
Nian Gao
Nian Gao which translates to "Higher Year" in Mandarin is as traditional as it gets when it comes to Chinese New Year celebration. Culturally just eating one piece of it is supposed to improve your luck in the coming year, talk about having your cake and eating it to! The cake is steamed and flavored with almond extract and Chinese brown sugar.
Ingredients
2 cups water, plus more for steaming
1 (1-pound) package Chinese brown sugar
1-pound sweet rice flour (about 3 cups)
2 tablespoons vegetable oil, plus more for coating the pan
2 teaspoons almond extract
10 dried seedless Chinese red dates, also known as jujubes, for garnish (optional)
1/2 teaspoon toasted sesame seeds, for garnish
Directions
Place the measured water and brown sugar in a medium saucepan. Set over medium heat and stir occasionally until the sugar has completely dissolved, about 10 minutes. (Do not let it boil.) Remove from heat and let cool until warm to the touch. Meanwhile, fill a 14-inch wok with about 1 1/2 inches of water and place a 12-inch bamboo steamer inside. (The water should not touch the bottom of the steamer.) If you don't have a wok and a bamboo steamer, use a large frying pan and foil as described above in "Special equipment." Bring the water to a simmer over medium heat. Coat a 9-inch round cake pan with vegetable oil; set aside. Place the rice flour in the bowl of a stand mixer fitted with a paddle attachment. With the mixer on low speed, slowly pour in the sugar-water mixture, beating until smooth, about 2 minutes. If needed, stop to scrape down the sides of the mixer with a rubber spatula. Add the measured oil and continue beating on low speed until the batter is smooth and the oil is incorporated, about 5 minutes. Add the almond extract and beat until just incorporated. Pour the mixture into the prepared pan. Carefully place the pan in the bamboo steamer or on top of the foil coils. Cover the bamboo steamer with its lid or cover the wok or frying pan with a tightfitting lid or a sheet of aluminum foil. (Do not cover the cake pan directly with a lid or foil.) Steam until the cake is very firm to the touch, about 3 hours, checking every hour and replenishing the wok or pan with hot tap water as needed. While the cake is still warm, garnish with the dates (if using) and sesame seeds. Let cool on a rack to room temperature. Run a knife around the outside of the cake, then slip a thin spatula under the cake to lift it out. Serve it sesame seed side up.
Steamed Whole Sea Bass
Steamed fish is a very traditional meal in Chinese culture, meaning that it deserves a place at the table during Chinese New Year celebrations. Fish serves as a symbol of prosperity and surplus, while also being delicious!
Ingredients
20 oz. Fresh Sea Bass cleaned and pat dry
2 tbsp. Scallion, shredded to tiny strips
1 tbsp. Ginger, shredded to tiny strips
2 tbsp. Cooking oil
3 tbsp. Seafood soy sauce, see Recipe below!
Several pieces of sliced ginger
Several pieces of 2-inch long scallion
½ tsp. Salt
Directions
Make 3 cuts on each side of the fish. Rub both inside and outside of the fish with salt. In a plate, place sliced ginger and scallion on the bottom of where fish will be place. This is to create room below the fish for even heat distribution. Place the fish on the plate and steam it in boiling water for 7 to 8 minutes. If you have a bigger fish, be sure to extend the cooking time to have it fully steamed. Also, use high heat for steaming. Take out the fish as soon as it is done. By now, you should see the eyes of fish are all popped out and the fins should be open. Remove the excess liquid from condensation if there is any. Heat the cooking oil until it gets very hot. Top the fish with seafood soy sauce and shredded ginger and scallion. Pour the hot cooking oil on top. There should be plenty of sizzling. Enjoy the steamed fish while it's still hot.
Seafood Soy Sauce
Ingredients
½ tbsp. black bean, finely minced
1 tbsp. each of dark soy sauce and regular soy sauce
1/3 tbsp. oyster sauce
2 tsp. sugar
1 tbsp. water
1 tsp. cooking wine.
Directions for Sauce
Combine all ingredients in a sauce pan, boil in low heat until it is reduced to 3 tbsp. About 4 minutes.
Image courtesy of Shutterstock.com
© 2023 Latin Times. All rights reserved. Do not reproduce without permission.