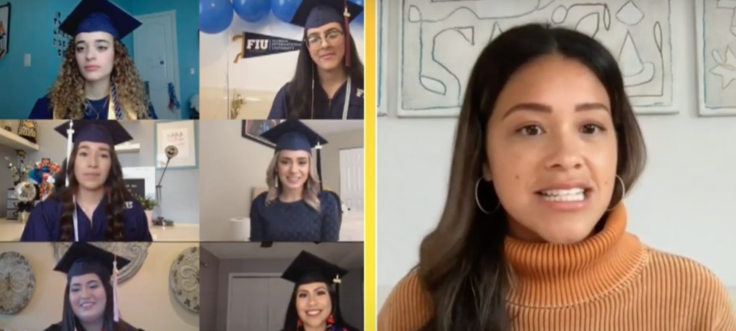 It's official! The Class of 2020 received their diplomas.
During the weekend students from all the Nation enjoyed their prom and graduation in virtual ceremonies due to the pandemic currently affecting the world.
Telemundo's morning show "Un Nuevo Dia" wanted to celebrate and honor all the hard work these students put into their education; Therefore, the network hosted the "Virtual Prom & Graduation" ceremony that included musical acts and very special celebrity commencement speeches.
Golden Globe-winner Gina Rodriguez delivered an amazing and emotional speech for the graduates. "I want to start by letting you know how proud I am of all of you," said the actress. "Despite what we are going through. Your achievements must be recognized. You are graduating. You all did it! You did it! You took control of your destiny. Having your education is creating endless opportunities," said the star with a big smile while the graduates celebrated her words.
"Do you know what I see through this camera? Future doctors, nurses, lawyers, and scientists. I see actors and dancers, directors, and businessmen and businesswoman. I see the future that will recreate our world. To be honest, I don't know what it is to achieve something so monumental in a pandemic. That really inspires me," the actress revealed. "You have shown what it is to face adversity. So I thank you."
Luis Fonsi, Christian Nodal, Cali y El Dandee, and Matthew McConaughey also joined the celebration and sent a message to the graduating class of 2020.
"Big things are going to happen with the class of 2020," said Luis Fonsi. "Although you couldn't say goodbye to your teachers, friends, and colleagues in the right way, something tells me that the class of 2020 is going to achieve everything in the world, and you are going to come out as warriors. You are the future!"
"We have a thousand reasons to be happy," said Christian Nodal advising graduates not to let the pandemic sadden them because they were unable to have a traditional celebration.
Enjoy below the rest of the messages.
© 2023 Latin Times. All rights reserved. Do not reproduce without permission.