Coronavirus outbreaks are now emerging at fresh produce farms in U.S. A Michigan Democrat predicts numbers could blow up as harvest season enters soon.
A report from Reuters has detailed how the novel coronavirus has started to spread in farms and packing houses located in the areas of Washington, Florida, California and nearby counties.
More and more of these workers are contributing to the already overwhelming count of cases in the U.S. after thousands of meat plant employees fell ill to the virus. This has caused serious concerns for officials as a hit in the said sector could weaken the country's already dwindling labor force and aggravate the status of the nation's food production levels.
Although harvesters are able to easily follow prescribed social distancing measures and working outdoors in the sun could reduce the risk of its spread, workers tasked to package fresh produce may find it harder to maintain a safe distance with their colleagues.
In Yakima County, Washington, more than 600 agricultural workers contracted the virus in the last week of May. Sixty-two percent of these workers reportedly belonged to the packing operations. With the highest infection rate in the West Coast, the county now has 4,988 coronavirus cases and has 112 recorded deaths.
Also known as "the world's salad bowl," Monterey County, California reportedly has 814 coronavirus cases and 11 recorded deaths to date.
Out of the 30 largest fresh produce counties in the U.S., Monterey is described as one of the few that tracks virus cases among its farmworkers.
In Kern county, a forklift operator at the Grimmway Farms named Martin Baca died of a suspected coronavirus infection on April 30.
When it comes to sales, carrots have been selling at an increased rate of 22%. This is significantly higher than last year's sales, said Nielsen data, and is a result of people ordering less and less from restaurants.
The U.S. Agriculture Department and Food and Drug Administration suggested using the Defense Production Act so that farmworkers can have someone to back them up if they fall sick.
Senator Debbie Stabenow predicts the current number of coronavirus cases in these counties may increase due to the impeding harvest season.
A farmworker from Immokalee named Lupe Gonzalo explains that some workers may try to hide their symptoms as they struggle to maintain livelihood for their families.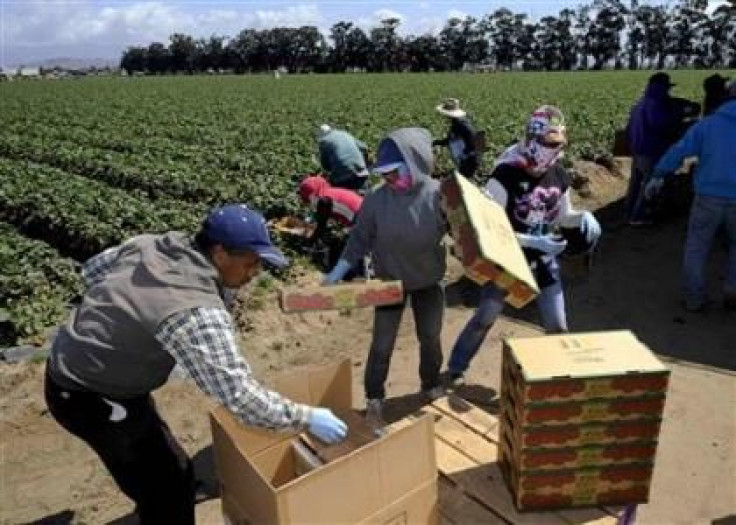 © 2023 Latin Times. All rights reserved. Do not reproduce without permission.