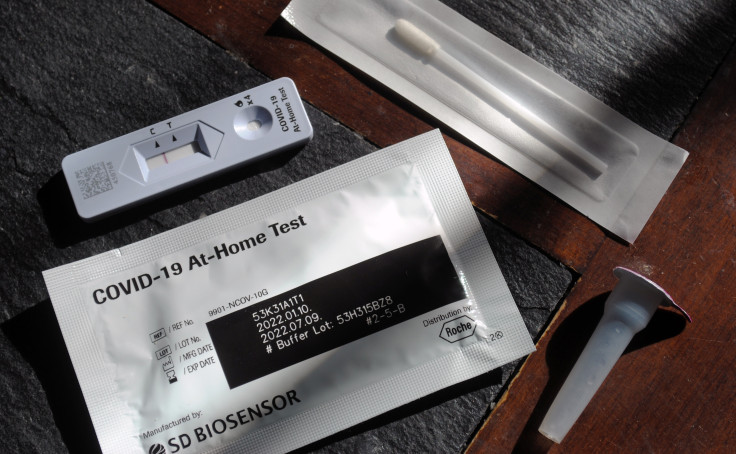 Anyone in the U.S., including people without legal status, can order free COVID-19 tests rapid tests from COVID.gov.
As of Monday, Sept. 25, 2023, anyone can order four free COVID-19 rapid tests if they have an address in the U.S., including Alaska, Hawaii, Puerto Rico, U.S. territories, and overseas military and diplomatic addresses. The Department of Human Health and Services returned the free COVID-19 test programs after suspending them for four months on May 11, 2023.
One household is eligible for one order of COVID-19 rapid tests–each order includes four rapid tests. The COVID.gov website notes that people might receive tests with an already passed expiration date, but to know that the Food and Drug Administration has made a list of COVID-19 tests with extended expiration dates. Among the brands with extended expiration is i Health Labs Inc., distributed by the U.S. government before.
According to data from the U.S. Census Bureau, 23.1% of Hispanics of any race live below poverty. Only some states have mandatory paid sick leave, but if a state does, often getting that sick leave paid out can be lengthy. Considering the data showing 23% of Hispanics live below poverty, the data suggests Latino families could benefit from free COVID-19 tests if, say, one financial provider in the family tests positive early enough to distance themselves from other financial providers in the family.
Long Covid Among Latinos
According to data from the Centers for Disease Control Prevention, in June 2022, nearly 9% of Hispanic adults were experiencing Long COVID. 9% is the highest rate of Long Covid among adults compared to 7.5% among non-Hispanic white people, 6.8% among Black people and 3.7% among Asian people.
Dr. Leo Morales, a professor of medicine at the University of Washington School of Medicine, said in a news release that in Washington state, Latinos have the highest rates of Long COVID, but they're not accessing Long COVID clinics.
"Many Latinos may not be aware of the symptoms of long COVID," Morales said in the UW Medicine news release. "I suspect that a lot of people in Latino communities don't know they have long COVID. They're feeling badly, they're having problems with fatigue or brain fog; they're just not doing well, but they don't exactly know why."
Current COVID-19 Infection Trends
COVID-19 infections are nowhere near the high of January 2022. Still, with cold and flu season coming around, with infections usually beginning in October, according to the CDC, people might want to test themselves if they feel COVID-19 symptoms.
Though October is when the flu season usually starts to kick up, COVID-19 infection rates are relatively high compared to previous numbers during the summer months. As of Sept. 16, 2022, the most recent collection of COVID-19 data shows a weekly COVID-19 positivity rate of 12.5%. Comparing the Jun. 10, 2023 data point, which cited a 4.1% weekly test positivity, the rate of COVID-19 infections has about tripled since then.
As of Sept. 12, 2023, the CDC has recommended the 2023–2024 updated Pfizer-BioNTech and Moderna COVID-19 vaccines for people in the U.S. The CDC website says that the updated vaccine more closely targets the XBB lineage of the Omicron variant and could restore protection against severe COVID-19 that may have decreased over time.
© 2023 Latin Times. All rights reserved. Do not reproduce without permission.