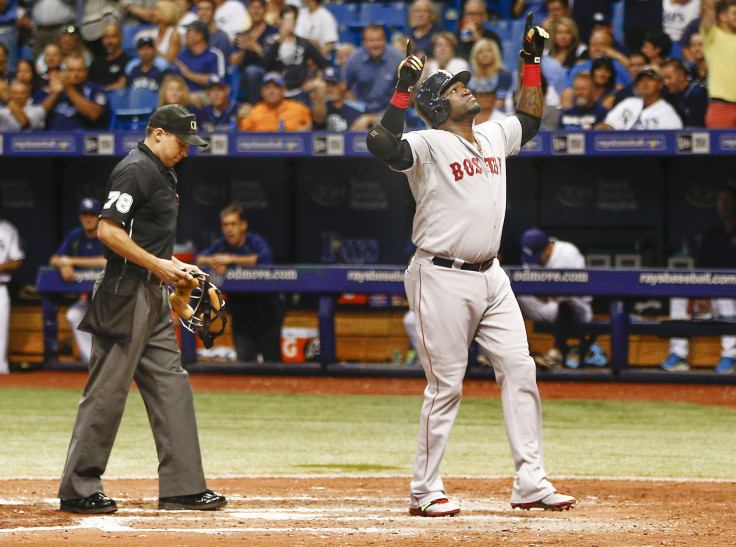 Ladies and gentlemen, please welcome the newest member of the 500 Home Run Club… Big Papi.
David Ortiz hit his 499th and 500th home runs of his career on Saturday as the Boston Red Sox beat up on the Tampa Bay Rays at Tropicana Field.
Ortiz hit a three-run homer in the fourth inning off Rays starter Matt Moore for his 499th of his career. Ortiz took a 93 MPH fastball and crushed it over the right field fence to give the Red Sox an early 3-0 lead.
Four innings later, Ortiz became the 27th player to hit 500 home runs in their career when he greeted Moore again with a home run to short-center field. As Ortiz rounded the bases, fans in attendance chanted, "Let's go, Papi!"
The game was delayed several minutes after the historic blast as teammates and relievers poured out of the bullpen to congratulate the Dominican slugger.
"The guy, he's the best hitter I've seen for the Red Sox for a long time," Red Sox Owner John. W. Henry said. "He's not in his prime. He's not going to hit 50 home runs. But is he going to hit 30? It doesn't look like it this year. Is he getting older? Yes. But I don't think any of us know."
Ortiz has 28 home runs in just 273 at-bats this season, and is on pace to blast more than 30. With that kind of production, he's expected to return to the Red Sox for the 2016 season.
With his 500th home run on Saturday, Ortiz joins Manny Ramirez, Jimmie Foxx and Ted Williams as the only Red Sox hitters who have hit 500 home runs or more. He also joins fellow Dominicans Sammy Sosa, Ramirez and Albert Pujols as the only countrymen to reach the milestone.
Check out the video below of Ortiz's 499th and 500th career homers.
© 2023 Latin Times. All rights reserved. Do not reproduce without permission.