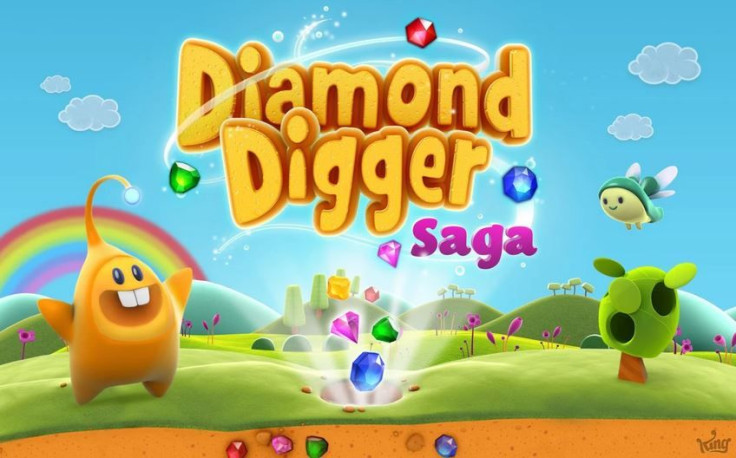 From the makers of the hugely successful title "Candy Crush Saga" and "Farm Heroes Saga" come "Diamond Digger Saga." In the game you dig through diamonds and unearth special treasures with your pal Diggy. The game is a basic puzzler just like "Candy Crush Saga" and is just as addictive.
"Diamond Digger Saga" is free to play and available for iOS and Android. In this article we will show you the best cheats, hacks, tips and tricks to get through all stages easily! Check them out below:
Use Color Burst - Don't forget to take advantage of this feature as you fill up your power-up gauge when making matches. This feature clears away all gems of the color you select. It is best used directly after activating because the sooner you use it the sooner it recharges.
Move Down As Much As Possible - Moving down grants you additional moves! Though it only seems like 2 moves it is still two additional moves you didn't have before and could make or break you completing a stage.
Avoid Gems On Water - Focus on other gems throughout the game as gems on water, much like gems on land, will not give you any points. If you must clear them away to make room for a better combo do so, but in general avoid these gems.
Be Aware Of Exclamation Marks - Throughout the game you will see toys of fireflies with exclamation marks above them which indicates that you must free them before moving forward. Do not move forward without doing this. You will instantly lose a life if you decide not to free these objects.
Gold Streaked Sand - You can gain points, and not just with gems, from sand and rocks streaked with golden ribbons. This is especially helpful if you want a three-star score.
There are also hacks like Diamond Dig This which gives you free gold and lives to work at beating some of those higher levels that aren't so easy to pass. The site offers tips like;
You can find treasures behind golden striped tiles. In the harder levels you will find more special treasures.
Don't use your bombs too soon, you might need them to clear your way out of a level.
Click large groups of diamonds to refill your Colour Burst booster faster. You also receive a bonus from diamonds over water.
Don't try to save all the fireflies, or you'll waste all your remaining moves. Be smart!
Also check out these walkthrough videos from YouTuber Thomas Ng below:
© 2023 Latin Times. All rights reserved. Do not reproduce without permission.