Twitter suspended George Zimmerman's account on Thursday reportedly posted revenge porn, an act that could lead to yet another indictment of the man acquitted in 2012 on murder charges in the infamous death of unarmed black teenager Trayvon Martin. Two nude photos of a woman with her name and phone number were tweeted from Zimmerman's account, according to Mic. The racist rants directed at his apparent ex included a xenophobic slur, general misogyny, and a gun mention.
"This is [name redacted], She cheated on me with a dirty muslim. [Phone number redacted] She'll sleep with anyone," Zimmerman reportedly wrote in the first tweet adding in a second message "Did I go to [sic] far?! I won't even mention that she stole a gun and cash from me. Here lines [sic] busy [....]"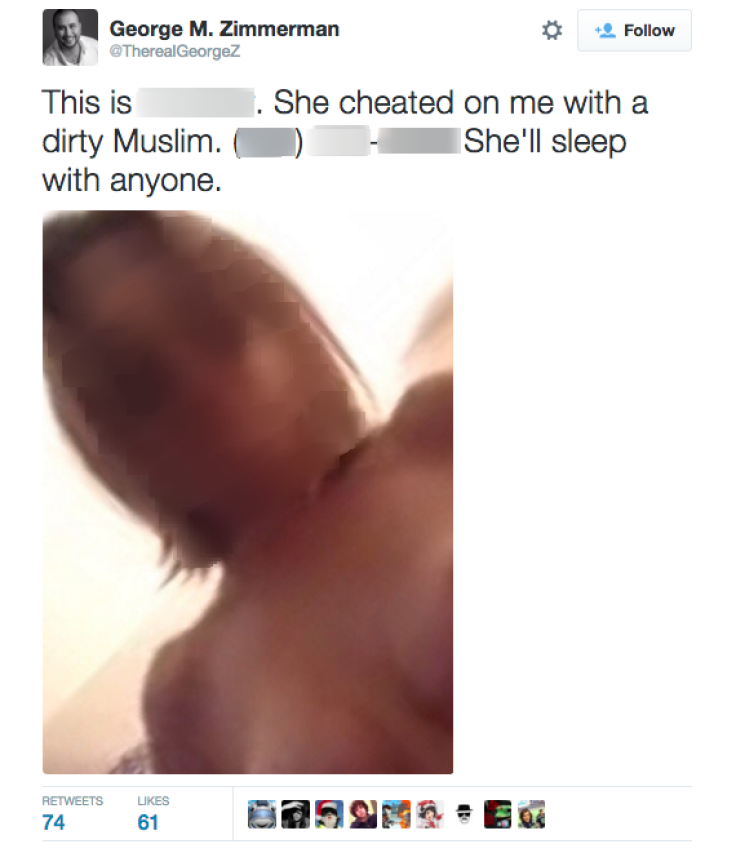 None of this will come as a surprise for seasons Zimmerman watchers. In the past, he's promoted the confederate flag, been charged with domestic violence (the charges were dropped by the alleged victim), and been involved in multiple shootings (none of which led to a conviction of Zimmerman).
In the Martin case, Zimmerman benefited from Florida's self defense laws, but when it comes to revenge porn, Florida law is not on Zimmerman's side. Florida Gov. Rick Scott signed a sexual cyber crimes bill that took effect in October, according to Reuters.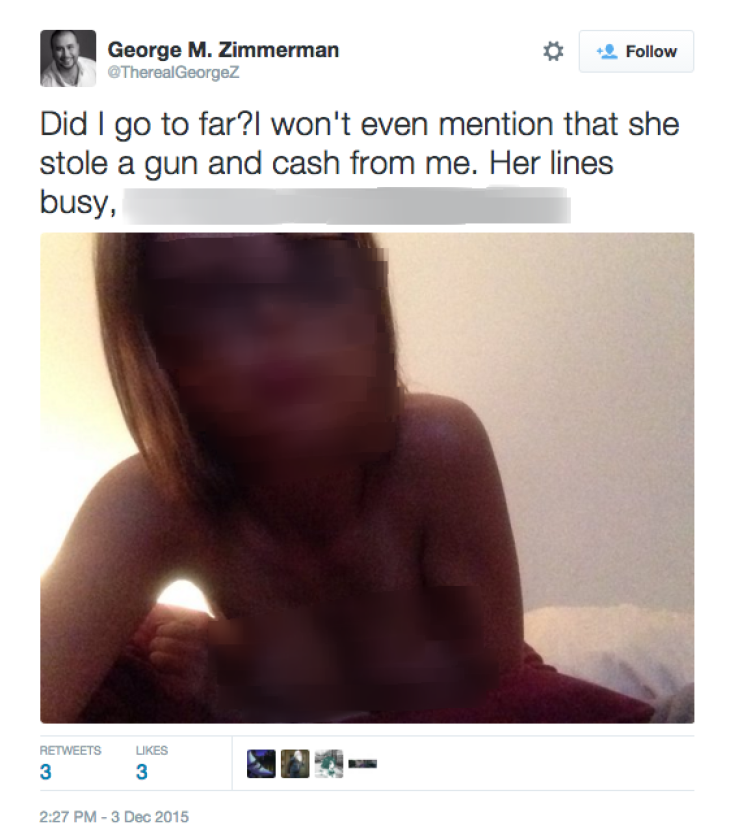 According to the law, it is a misdemeanor to distribute an image that "that contains or conveys the personal identification information of the depicted person" with the intent of "causing substantial emotional distress."
Zimmerman is innocent until proven guilty. We don't know, for example, if the subject in the photos consented to the tweets, or if Someone hacked Zimmerman's account. But in the court of public opinion, Zimmerman may have milked the benefit of the doubt dry.
© 2023 Latin Times. All rights reserved. Do not reproduce without permission.