Donald Trump will head to North Carolina in June for the state Republican Party's annual convention where he will deliver his first extended political speech since his address to a group of Republican donors at his Mar-a-Lago estate in Palm Beach, Florida in April.
The former president, who was living in the south Florida resort since leaving the White House in January, will be in Greenville on June 5 and speak at the convention dinner. Trump was recently spotted jetting off to New Jersey to stay at his Bedminster Golf Course for the summer.
North Carolina is important for Republicans to regain control of Congress in the 2022 elections.
"President Trump won North Carolina in 2016 by promising to put America First, and he won North Carolina in 2020 by keeping that promise," North Carolina GOP chair Michael Whatley told Fox News in a statement.
He feels that Trump delivered "real results for North Carolina by rebuilding the military, standing strong against China, and unleashing the American Economy."
Whatley said, "We are honored to welcome President Trump to our convention as the Republican Party launches our campaign to retake Congress and the Senate in the 2022 midterms."
The upcoming speech to the North Carolina Republicans will not be open to the press, reported USA Today.
In the April 10 speech, which was also closed to the media, Trump took a swipe at Senate Republican leader Mitch McConnell, and his former vice president, Mike Pence, for denying support to his protests of the 2020 election.
Trump's last public speech was on Feb. 28 to the Conservative Political Action Conference in Florida.
Meanwhile, Trump hinted at running again for president in 2024. In an interview in April, he said that he will "very seriously" consider 2024 run if the Republican Party can "get the right people" on Capitol Hill.
On what he misses most about the presidency since leaving the White House, he said, "I miss the most, helping people. That's why I did it."
"Look, this has been very traumatic. I had a great life, great company, great business, no problems and now all I do is, people go after you. It's vicious, it's horrible but you know what? I loved doing it because I helped people. And I've helped them more than any president," he added.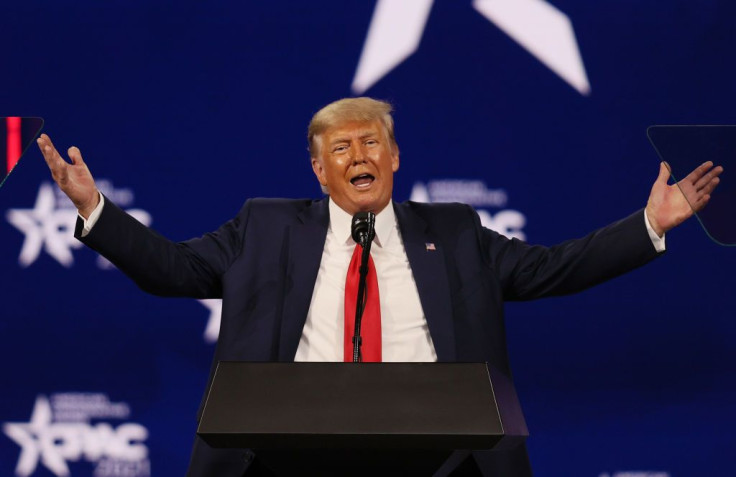 © 2023 Latin Times. All rights reserved. Do not reproduce without permission.