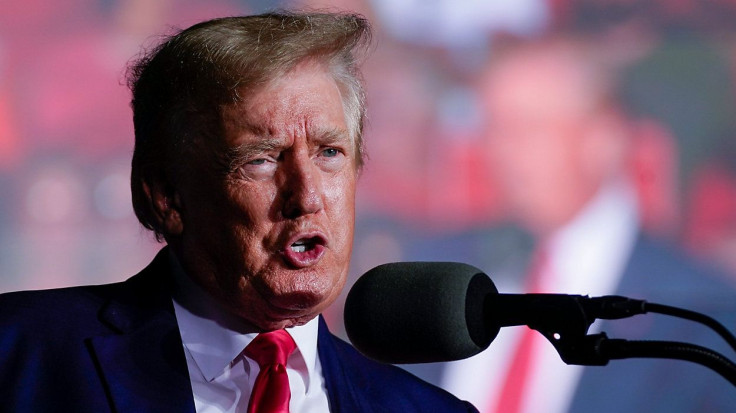 Instead of typical season's greetings, Donald Trump has decided to go in a different direction this holiday season. The former president took to his social media platform Truth Social to wish his everyone a happy holiday while discrediting his foes.
On Christmas Eve, the 45th president wrote and then re-shared on Christmas the following statements calling himself a "clairvoyant" while calling President Joe Biden "mentally disabled."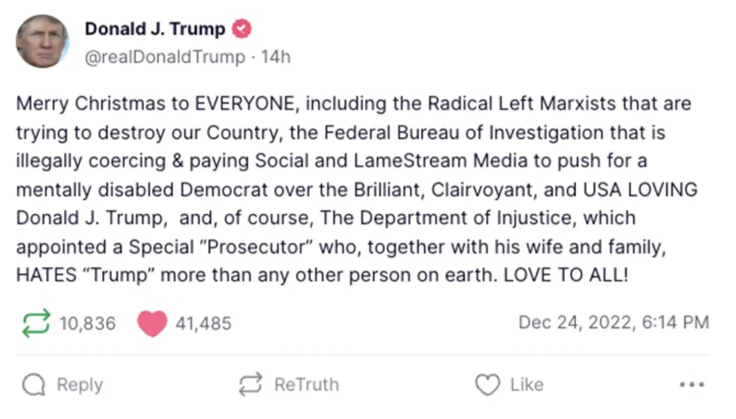 He continued his Christmas Day tirade by taking aim at the current administration's border security.
"We had the most SECURE Border in our history, versus the 'horror show' that that is happening now, with record setting numbers of people," wrote Trump. "Many of them hardened Criminals (including Killers, Human Traffickers and Drug Dealers), POURING INTO OUR COUNTRY at a rate the likes of which we have never seen before," Trump said, adding "The USA is dying from within!!!"
This comes less than a week after Trump responded with a five minute video to the Jan. 6 committees' final investigative report in which they point to Trump as the main cause of the Capitol riot.
"The Unselect Committee's January 6th Report is a Hoax, no different than RUSSIA, RUSSIA, RUSSIA, and all of the other Scams that the Disinformation laden Democrats have been planting for years," said Trump. "If I weren't leading by a lot in the Polls, against both parties, this continuation of falsehoods and lies would end quickly. I won in 2016, did much better in 2020 (RIGGED!), and the Radical Marxists don't want to run against me or MAGA in 2024. I had almost nothing to do with January 6th. FREE SPEECH!"
© 2023 Latin Times. All rights reserved. Do not reproduce without permission.