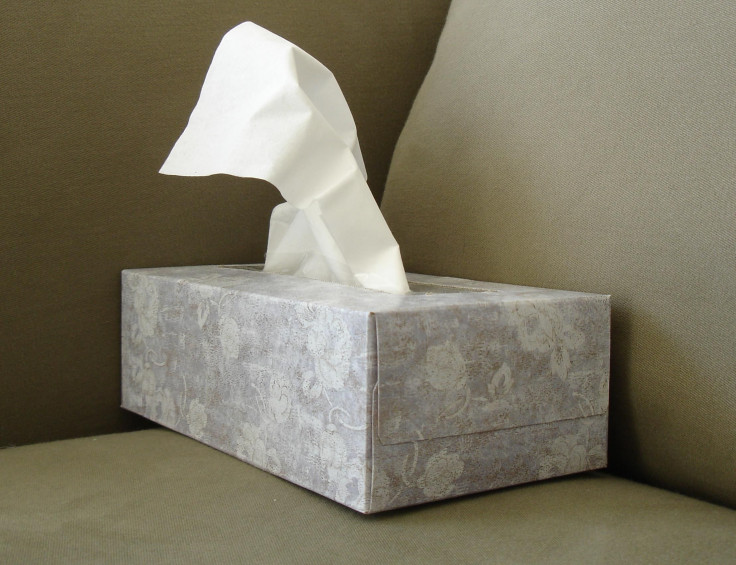 Former Vogue Australia magazine editor, Kirstie Clements, has revealed an odd way models stay skinny in her new book, "The Vogue Factor."
Clements, who was fired from her job at Vogue Australia last May, shared in an interview that models consume tissue to fit into the sample size clothes they're expected to sport on the runway.
"I was having dinner with a New York agent who said to me that a few of the girls had resorted to eating tissues," she told "Entertainment Tonight" on Wednesday. "I'd never heard of such a thing. I said 'Oh, what did that do?' And, apparently, they swelled in your stomach and made you feel full, and I definitely heard that some girls were unwell and starving themselves and were on drips. Over time, I did hear that."
This isn't the first time tissue eating has been brought up in the media and it's not restricted to runway models. Early 2011, in a CNN interview, Janet Jackson shared with Piers Morgan on his eponymous show, Piers Morgan Tonight, that female stars consume tissue to stay fit.
"This is the worst," Jackson told Morgan. "Eating tissue, Kleenex, to fill the stomach so you're full."
"That's crazy. And then for the kids to see this and to look up and see, oh, this is what I'm supposed to, this is what I want to look like or what I'm supposed to look like. And want to go on a diet from a very young age and not living a life as a kid," added Jackson.
As crazy (and unhealthy) as eating tissue to stay slim is, there are other equally crazy, if not more insane, diets that people take part in to lose weight. Here are four unhealthy and weird diets:
1. The Tapeworm Diet
The tapeworm diet is exactly what it sounds like: Ingesting a tapeworm egg so that the parasite can grow and consume the digested food, and in turn, prevent the body from absorbing calories. The diet, which came about in the 1920s, was popular among jockeys in the 1930s and '40s, according to Elle magazine, and was made popular by being the diet of choice for opera singer Maria Callas.
2. The Horace Fletcher Diet
Food and health faddist Horace Fletcher-also known as "The Great Masticator" -- came up with his diet in the early 20th century, which entailed chewing food 32 times or until it becomes liquid. The diet doesn't restrict any food, so long as an individual chews it until the "food swallowed itself." According to a paper from Indiana University School of Dentistry in The Journal of Dentistry, Fletcher distributed his doctrine from 1895 to 1919.
"Fletcher believed that prolonged chewing precluded overeating, led to better systemic and dental health, helped to reduce food intake, and consequently, conserved money," write the authors of the paper, titled "Horace Fletcher (1849-1919): The Great Masticator." "People were cautioned not to eat except when they were "good and hungry," and to avoid dining when they were angry or worried."
3. The Sleeping Beauty Diet
The Sleeping Beauty diet works on the idea that if you sleep for most of the time, you won't consume anything, and thus, would sleep off your weight. It was first mentioned in the 1966 Jacqueline Susann novel, "Valley of the Dolls," where the character of Neely O'Hara uses this diet to slim down. The diet was popular in the 1970s and was reportedly the diet of choice for Elvis Presley when he started packing the pounds.
4. The Placenta Pill Diet
According to MSN, "Mad Men" actress January Jones encapsulated her own dried placenta and ingested it to lose her baby weight.
"Your placenta gets dehydrated and made into vitamins," Jones tells People. "It's something I was very hesitant about, but we're the only mammals who don't ingest our own placentas."
Placenta encapsulation is not a FDA-approved practice in the U.S., but research has found that the placenta is nutritious. Either way, no scientific evidence has found a correlation between consuming placenta and losing weight.
© 2023 Latin Times. All rights reserved. Do not reproduce without permission.