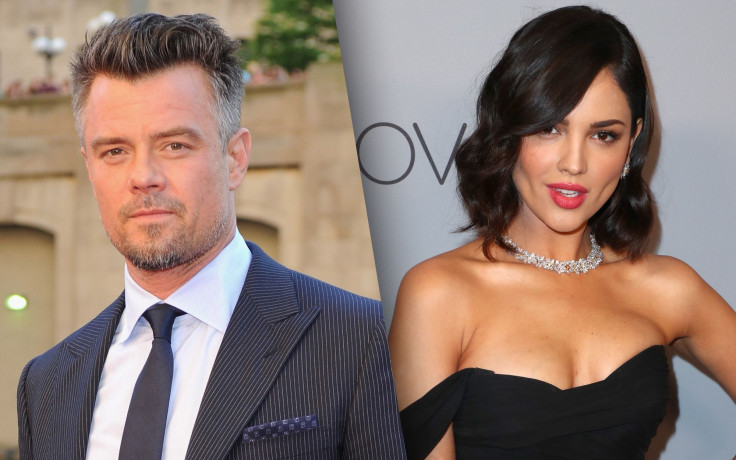 Eiza González is being linked to Josh Duhamel, who five months ago separated from his wife Fergie. "It's apparently the real deal," a source told ET. "They're spending time together as a couple with friends." The hot new couple reportedly met during a pre-Super Bowl party thrown by Jennifer Lopez. "They drank and partied together until very late," an insider told US Weekly. "After, Josh reached out to a mutual friend and asked for Eiza's number."
The 45-year-old actor and the 28-year-old former telenovela star have apparently hit it off. "They definitely have a connection because they've been FaceTiming and texting nonstop while she's been in England working," the tipster told US Weekly. "They're keeping it on the down-low. He's telling her he's never met anyone like her before."
Duhamel split from The Black Eyed Peas singer, but they have a child together. He recently came out in her defense after her National Anthem fiasco at the NBA All-Stars game. "I think she would probably admit that it's not her best work. But the girl is crazy talented, she really is. She's an amazing woman, an amazing human being, really," he said during an interview on the Ellen DeGeneres show. "It's hard to see somebody you care about get beat up like that. But that's the business. You're in this business, you put yourself out there. Sometimes you win and sometimes you don't."
Back in 2013, Eiza broke into the Hollywood scene with rumors of dating Liam Hemsworth, fresh off his breakup from Miley Cyrus. Gonzalez and Hemsworth were spotted in a Las Vegas club flirting with each other the whole night and leaving the spot together around 2 in the morning. A couple of days later the couple was seen at Eiza's home kissing after dropping off a piece of luggage. During a sit-down interview with Extra, a reporter asked the Australian actor if he cooks for his lady. "I don't have a lady at the moment," he replied.
Eiza González is a Mexican actress that is working her butt off in Hollywood and fighting for more representation of Latinos in the industry. "Just a reminder that Latinos and Latina Women specifically are under represented and always seen as the minority of the minority, when ironically we have been the majority of the minority," she wrote on Twitter. "Billion dollar franchises like [Fast & The Furious] by being inclusive have been built by Latino communities watching these movies, and surprisingly Latino communities being the biggest turn out in movie theaters in general."
She added: "Last year was a year of a big wave of Latina women working. Being part of the biggest projects of the year, yet we are constantly ignored and struggle everyday to be considered, to only have a chance to get 1 role always against every other ethnicity or race. We are labeled "diversity" all of us (Asian, African American,Latinos,Muslim etc.) and if it's not an obvious type cast (the cop, a drug dealing story, the slutty girlfriend, the help or something having to do or being linked to Latinos) our chances to getting work are slim to none. Our chances to being the leading lady that portrays something differently and uplifting are almost none existing."
© 2023 Latin Times. All rights reserved. Do not reproduce without permission.