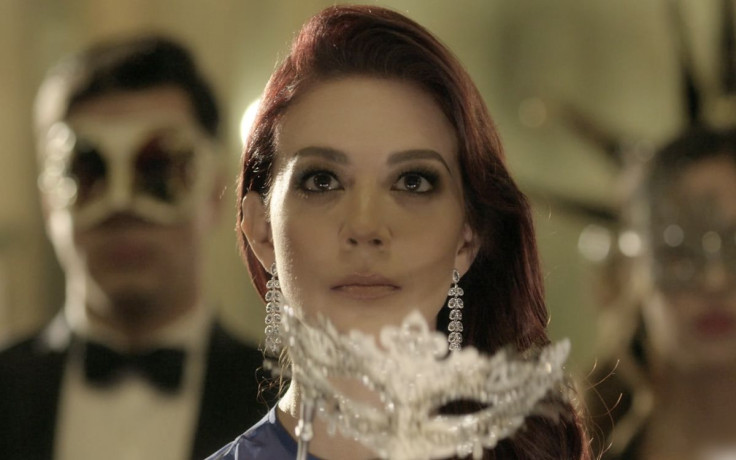 Fernanda Castillo is back on Telemundo with "Enemigo Íntimo" following the death of Mónica Robles on "El Señor De Los Cielos". The actress will star opposite Raúl Méndez and Matías Novoa in the series that has international locations in Zurich, Switzerland, Mexico and USA border towns.
Also starring are: Rafael Sánchez Navarro, Guillermo Quintanilla, Samadhi Zendejas, Diego Soldano, Otto Sirgo, Alex Speitzer, María del Carmen Felix, Mayra Rojas, Alpha Acosta, Armando Hernández, Iván Aragón, Tomás Rojas, Elvira Monsell, Mónica Jiménez, Leonardo Daniel, Valentina Acosta, Miguel Moreno, Rafael Nieves, Alan Ciangherotti, among others. "Enemigo Íntimo" premieres on Wednesday, February 21 at 10pm ET/PT. Watch a preview trailer below and tell us what you think!
SYNOPSIS: Ten-year-old Alejandro (Raúl Méndez) is playing innocently with his young sister, who is about to turn four, when a tattooed hit man from one of the many powerful cartels spreading their violence across Mexico brutally murders their parents and kidnaps the little girl. Now, 25 years later, Alejandro Ferrer – known as Captain Alejandro to his colleagues in the Federal Police – is waging a fierce, and sometimes brutal, war against the country's drug cartels.

We are in northern Mexico along the border with the United States. Captain Alejandro and his men are squaring off against a group of drug traffickers who are smuggling drugs into the US through a secret tunnel. During the shootout, the Captain kills El Colibrí (the Hummingbird), a beloved key operative of the Mil Cumbres Cartel, one of the most active and dangerous criminal organizations in the area. And that's not the only blow the deadly cartel will receive that day: Thousands of miles away, on the other side of the world, a woman named Roxana Rodiles (Fernanda Castillo) has just donated millions of dollars to the Henri Noguers Foundation, a charity benefiting African children, on behalf of Federico Montalvo (Diego Soldano), President of Banco Atlántico. Acting as his representative, she is also negotiating with a leading Japanese entrepreneur to sign an important business deal to buy and sell diamonds. But before she can close the deal, she is captured by Interpol, which has been quietly following the money trail she has left in her wake.

After being arrested and interrogated, Roxana is sent to Las Dunas prison, a facility unusual for Mexico in that it houses both men and women, albeit in separate wings. The inmates at Las Dunas are awaiting trial or serving sentences for a broad range of crimes.

For Captain Alejandro, however, no victory over the cartels is ever enough, and he comes up with an audacious plan to send one of his own operatives to infiltrate Las Dunas. The man he chooses for the task is 27-year-old Daniel Laborde (Matías Novoa), whose mission is to win Roxana Rodiles's trust, seduce her, and get her to leak information about the cartel. What Captain Alejandro can't know is that Daniel will fall in love with Roxana Rodiles for real, and that their relationship, forged in such adverse conditions, will jeopardize not only Alejandro's operation but also the very existence of the Mil Cumbres Cartel, as well as the lives of Daniel and Roxana themselves.

But there's no turning back, and deciding whether one's adversary lives or dies is a toss of the coin when the enemy is this intimate.
© 2023 Latin Times. All rights reserved. Do not reproduce without permission.