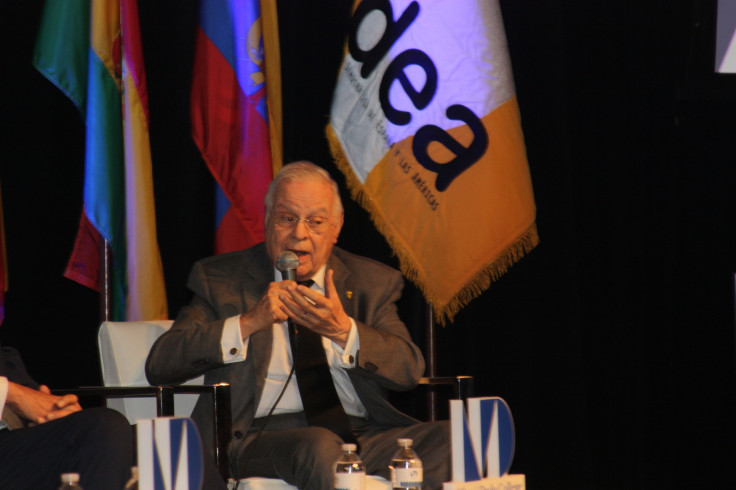 On the sideline of his participation in the VIII Presidential Dialogue of IDEA group held at Miami Dade College, Miguel Angel Rodríguez, former President of Costa Rica and former Secretary General of the OAS (Organization of American States), says the Latino community in the United States should act as a block to advance their principles an ideas. In an interview with The Latin Times, he also analyzed some of the main issues dominating the global and regional conversation.
This conversation has been edited for extension and clarity purposes.
The Latin Times: Would former presidents have a proposal for peace in the face of the war scenario we are living? What would that proposal be, especially considering that Costa Rica has always been a standard bearer of peace?
What we are living is terrible. Pope Francis has said that we are living the Third World War in pieces. This death of so many civilians, first in Ukraine and now in Palestine, is something very serious and very painful. First of all, we need to recover the sense that the death of any human being should hurt us all, because we are part of a fraternity. Therefore, we cannot be indifferent to the pain of those who die in our countries as a result of drug trafficking or gangs, nor to the pain of those who die in the Gaza Strip as a result of the terrorist acts of Hamas. The death of those young Jews who were killed while enjoying a concert is as painful as the death of those poor Palestinians who lose their lives in the pursuit of Hamas leaders in the Gaza Strip.
The second thing is that we cannot let this happen. If the two-state solution had been realized in the 1990s, when they were so close under former President Clinton, the situation would have been different. Unfortunately, the assassination of Israeli prime minister Itzhak Rabin, who was working toward that goal, derailed that process. This means that we cannot leave the processes that can solve conflicts halfway. The same is true in the case of Ukraine. At the beginning of the 21st century we should have had clearer solutions that would have guaranteed that the West would not allow this nation to be invaded. Maybe the war could have been avoided.
LT: Was there any fault on the part of the West? Was NATO overextended after the fall of the Soviet Union?
It is always easier to analyze the game after it has been played. Of course, at this point one could say that NATO could have given some guarantees to some countries without the need to extend it. This guarantee would be a warning to other countries that if they violate the sovereignty of others, they will have a response. But it was difficult to see things at the time. It is always easier to see things later than at the right time, what we should not do is stop fighting to try to anticipate and resolve conflicts. This is something we have to do all the time.
LT: From your point of view, what role can Latinos play in U.S. politics?
Although I currently live in Costa Rica, I was a professor at Georgetown University from 2002 to 2004. I think that Latinos have played a very important role and can play a much stronger role than they have. I see that Latinos are more differentiated and that makes them a less powerful force than they would be if they acted a little more united. Latinos defending their principles, their values, their ideas could have a very positive impact on the development of the United States and the world.
LT: What proposal or idea would you highlight from this forum as a new contribution to the democratic process in Latin America?
The proposal that it should be possible to vote against. That is, it would be possible not only to vote for a candidate, but also to vote against one of the candidates on the ballot. This could overcome abstentionism and give a different dynamic to democratic participation.
© 2023 Latin Times. All rights reserved. Do not reproduce without permission.