On Tuesday, Dr. Anthony Fauci has warned that Americans should not be taking comfort in the country's currently falling COVID-19 death rate even as President Donald Trump has touted the drop as a result of a successful COVID-19 response.
According to a report, Fauci who is the current director of the National Institute of Allergies and Infectious Diseases (NIAID) reacted after Trump pointed repeatedly interpreted the now-dropping COVID-19 death rate as evidence that they have been productive in their response to the pandemic.
In a live stream press conference with Democratic Senator Doug Jones, Fauci said that it is "a false narrative to take comfort in a lower rate of death," and that there are other factors to consider before one could be sure about the country's stand against COVID-19 pandemic.
Fauci's comments come from the fact that states throughout the U.S. have been seeing unprecedented surges in the number of new COVID-19 infections in recent days.
On Twitter, the President has been touting the drop in COVID-19 deaths. In one of his posts on Monday, he repeatedly declared that the U.S. has the lowest mortality rate in the world. His claims appear to be imprecise as global data shows that there are at least 14 other countries with lower COVID-19 death rates.
Experts added that the current U.S. numbers in COVID-19 infections and deaths could be far worse due to the limited testing availability and the mild or asymptomatic cases that have been off the books.
Fauci said that there is a higher chance that the current administration may not be imposing a federal coronavirus vaccine mandate even if the U.S. were able to offer one. However, he said this could be possible in a non-nationwide scale as institutions could opt to move to this direction.
He explained that imposing a federal coronavirus vaccine mandate in a national level would be toilsome due to "a person's freedom to make their own choice of their own health" and the "general anti-vaccine feeling" of most people in the U.S.
Currently, scientists from different parts of the world have been working ceaselessly to develop a vaccine against the coronavirus. Fauci said that if the U.S. were going to implement the use of one, a convergence of efforts must be done to educate the people on the truth on the benefits of vaccines.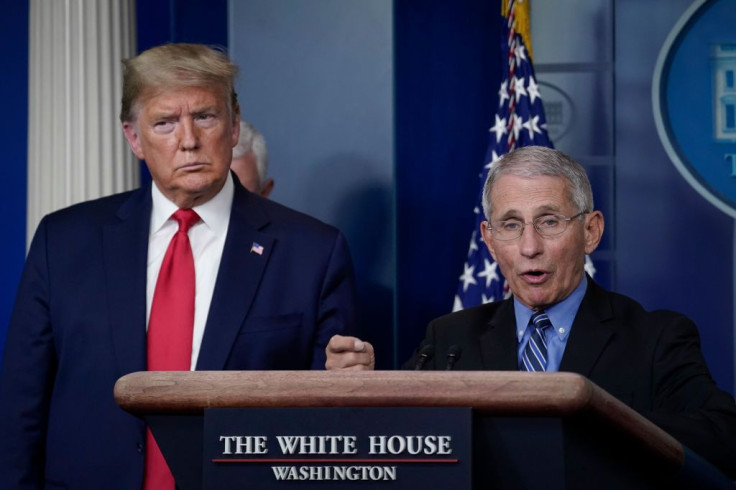 © 2023 Latin Times. All rights reserved. Do not reproduce without permission.