Marion County Sheriff's Office shared the footage from Deputy Branden Donahue's bodycam following a violent altercation on Tuesday, March 16 just before 1:30 p.m. The K-9 CPL and his K-9 partner, Scout, arrived at the home of 23-year-old Branden Richter in Florida.
The man tried to flee from the officer. What followed was a long and violent struggle during which both the officer and his partner were injured. Eventually, the suspect was successfully taken into police custody. He faces multiple charges for assaulting the law enforcement officer and K-9.
Due to a number of outstanding warrants for Richter's arrest, the deputy tried to apprehend him. On seeing the law enforcer approach, the suspect tried to flee from the property. Before he could abscond, the K-9 caught up with him and took him down.
Donahue's bodycam footage, which was released on Marion County Sheriff's Office's Facebook page, showed how the officer continued to try and subdue Richter. He can be heard shouting at the suspect to put his hands behind his back. As the struggle continued the officer kept repeatedly telling the suspect to let go of the dog.
At one point Richter was seen pulling out a Smith & Wesson 9mm handgun. Donahue urged him to drop the gun. During the struggle, Scout could be heard whimpering and groaning as he was being choked. In the video, the concerned officer kept telling the assailant to stop choking the K-9. In the stressful situation, the officer managed to remove the gun from Richter's possession.
The struggle continued even after responding deputies arrived at the scene. A taser had to be used to finally subdue Richter.
According to Fox35 Orlando, he is being held at Marion County Jail. In the altercation apart from choking the K-9, Richter also bit the dog's ear and the officer's hand and arm. Both were treated for their injuries and are "doing fine", the Facebook post added.
Richter now faces multiple charges including charges for battery on a law enforcement officer, battery on a police K-9, aggravated assault on a law enforcement officer, possession of a firearm by a convicted felon, misdemeanor warrants for resisting arrest.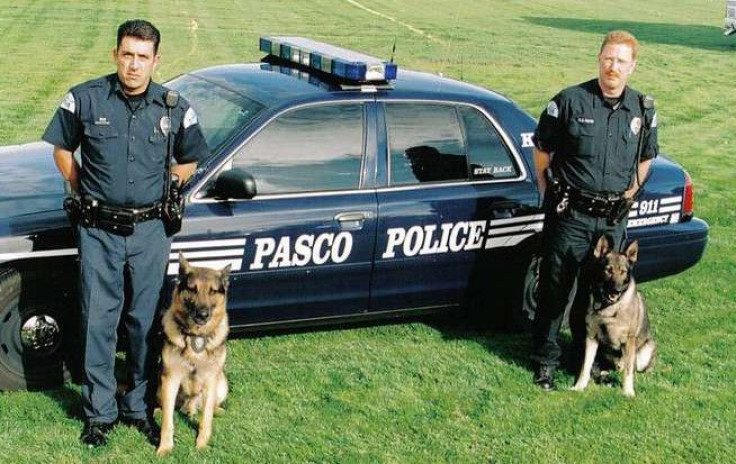 © 2023 Latin Times. All rights reserved. Do not reproduce without permission.