Activists fighting against Vladimir Putin's futile salvo on Ukraine have taken the matter into their own hands in London and the south of France, resulting in the arrests of at least two civilians after they broke into the lavish seaside Alta Mira villa of the dictator's daughter Katerina Tikhonova.
Pierre Afner, who for years has been documenting Russian riches in the French resort enclave of Biarritz, was arrested with Ukrainian activist Sergei "Troyan" Saveliev for trespassing after they planted a Ukrainian flag at the terrace of the Putin-tied estate overlooking the sea, the Daily Beast reported.
Inside the mansion, Afner took videos and photos of the items he found, including the Russian passports of Tikhonova, 35, and her wealthy ex-husband Kirill Shamalov, son of Putin ally Nikolai Shamalov. Tikhonova, who is reportedly the director of Russia's National Intellectual Development Foundation, and Shamalov are both sanctioned by the U.S. since 2018.
Afner posted the treasure trove on his Facebook page just a few hours before police took him into custody Monday morning. Since their arrest, supporters have taken to social media to call for their release.
"The police should protect the people, not the oligarchs. Sergei, Pierre, and other activists did not steal the villa, they did not take a single item, they tried to equip and prepare the Putin-Shamalov villa for receiving refugees," said their organization in a statement.
On Monday, five members of the group Resist London would break into a six-story Belgrave Square mansion belonging to the family of Oleg Deripaska, said to be worth around $65 million, where they hung a Ukrainian flag and banners that read, "The property has been liberated" and "Putin go fuck yourself."
Deripaska was sanctioned by the British government last week over his ties to warmongering Putin, according to MSN.
In a statement posted on Twitter, the anarchist group said it took over Deripaska's swank digs "to show solidarity with the people of Ukraine, but also the people of Russia who never agreed to this madness." The estate will now serve as a center for refugee support for "people of all nations and all ethnicities," per the announcement.
The assertion ended with a call to "squat oligarch's properties everywhere," written in all caps, the New York Post noted.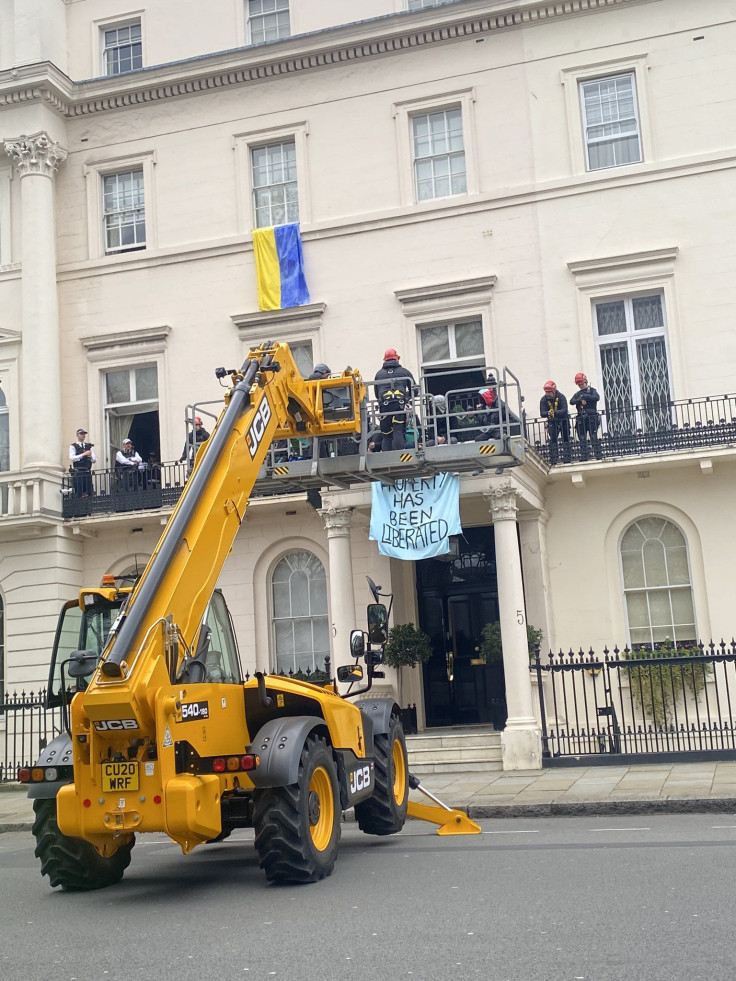 © 2023 Latin Times. All rights reserved. Do not reproduce without permission.