Over the weekend, famous reality TV personality Dog the Bounty Hunter joined the search for Brian Laundrie, the person of interest in Gabby Petito's disappearance as the legendary star recounted that he lost a daughter around the same age as the victim in a horrific car crash in 2006.
"The reason I went to Mr. [Christopher] Laundrie is I carry a reputation with me," he said. "The reputation is, 'He gives you a second chance. He's gonna get you, but he gives you a second chance.'"
According to the legendary bounty hunter, whose real name is Duane Chapman, he was already in Florida when people began phoning his anonymous tip line, 833-TELL-DOG, requesting for him to look into Laundrie's disappearance, Fox News reported.
The mission has since become personal for the father of 13, who lost his daughter to a road accident in 2006. Chapman said he feels for the victim's grieving family, noting he knows how hard it is to accept the loss of a daughter.
Laundrie's parents have since reported their son missing on Sept. 17, informing authorities that they have not heard from him in three days amid reports they set out for a camping trip following his return from a cross-country trip with Petito.
Two days later on Sept. 19, FBI officials discovered the remains of Laundrie's fiancée, Petito, at the Spread Creek dispersed camping area north of Jackson Hole in Wyoming. The horrifying discovery saw Laundrie named as a person of interest in Gabby's disappearance.
The man in question is also the subject of a federal indictment for an alleged debit card fraud, which prompted a warrant that Chapman had with him on Saturday.
According to the agency, Laundrie is wanted for using Petitio's debit card between Aug. 30 and Sept.1 following Petito's death to obtain items worth no less than $1,000, the Daily Mail noted.
"While this warrant allows law enforcement to arrest Mr. Laundrie, the FBI and our partners across the country continue to investigate the facts and circumstances of Ms. Petito's homicide," a statement from FBI Denver noted.
Police have already spent more than a week searching for Laundrie in the inhospitable 24,000-acre swampy Carlton Reserve but experts say they don't believe he could survive there.
Anonymous tips of Laundrie's whereabouts are pointing toward the Appalachian Trail, where he camped previously. Cops are also not ruling out the possibility that Laundrie may be along the trail, where Chapman took part in a massive manhunt in 2015 for two escaped murderers.
Meanwhile, two FBI agents visited the North Port home of the Laundries on Sunday, asking the suspect's parents for some of their son's personal items to help with DNA matching. The officers would leave the residence with a brown paper bag around 11:00 a.m.
The same day, mourners flocked to the Moloney Holbrook Funeral Home in Long Island to pay tribute to the 22-year-old Petito five days after her death was deemed a homicide last Tuesday.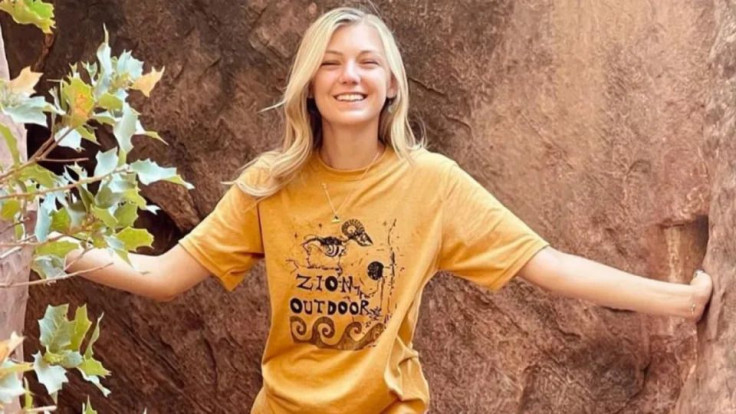 © 2023 Latin Times. All rights reserved. Do not reproduce without permission.