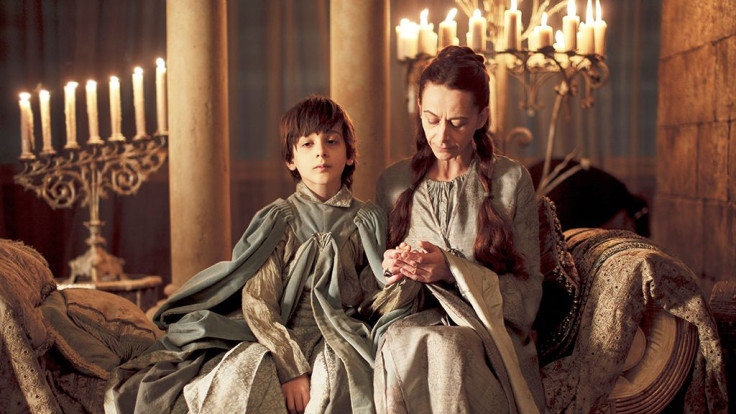 Season 4 of "Game of Thrones" has brought us all the way to the Vale, and of course the recent marriage of the seemingly charitable Lord Petyr Baelish and Lysa Arryn. Now with Sansa Stark secure in the Vale, the story of Lysa Arryn and Petyr Baelish will most certainly increase in scheming, despite the Stark's involvement in the War of Five Kings, Lysa insisted on keeping the Vale of Arryn neutral. But with her new husband vying for the prominent position as Lord Protector of the Vale, Lysa Arryn and Sansa Stark will most likely find themselves back in the deadly "Game of Thrones."
Warning! Spoilers ahead for Season 4 of "Game of Thrones." If you do not want to know what will occur in forthcoming episodes do not read any further.
In episode 7, "Mockingbird" the growing tension between the jealous Lysa and her innocent niece Sansa will come to a head. Sansa strongly resembles her deceased mother Catelyn, something that Lysa is blatantly threatened by, however he jealously comes to a rage when she catches her beloved husband Petyr catching the naïve Sansa. Sansa is in the garden of the Vale, sweetly building a snow castle that resemble her long lost home -- Winterfell. Petyr's true intentions become clear when he kisses her full on mouth, revealing his feeling for Lysa have been nothing but a farce. After witnessing the kiss, Lysa is enraged and even attempts to kill Sansa by dangling her out the Eyrie's ominous and clearly deadly Moon Door. Sansa is only saved from Lysa's misplaced wrath by Petyr, who intervenes and hoists the terrified teen to safety.
With Sansa safe, Petyr turns his attentions towards his new bride. The pair engage in a standoff where his true feelings are revealed. In George R.R. Martin's "A Storm of Swords" of the "A Song of Ice and Fire" series, Petyr and Lysa stand over the open Moon Door, she pleads with him and reveals the true nature of not only their personal history but how she ruthlessly betrayed her husband and sister.
Lysa says, "I've always loved you. I've proved it, haven't I? ... I gave you my maiden's gift. I would have given you a son too, but they murdered him with moon tea, with tansy and mint and wormwood, a spoon of honey and a drop of permyroyal. It wasn't me, I never knew, I only drank what Father gave me... It was me who got you your first post, who made Jon bring you to court so we could be close to one another. You promised me you would never forget that ... You told me to put the tears in Jon's wine, and I did. For Robert, and for us! And I wrote Catelyn and told her the Lannisters had killed my lord husband, just as you said. That was so clever."
Fans did learn some of this betrayal in episode 5, "First of His Name" when Lysa insists upon the immediate marriage, however the deep rooted love Lysa has for Petyr will most likely be touched upon again.
Despite her intense jealousy, Lysa has clearly been blindly devoted to her now-husband for her whole life. Sensing the moment of truth has finally come to fruition, Petyr responds to Lysa's revealing plea, saying, "My sweet silly jealous wife, I've only loved one woman, I promise you." Lysa believes that she is indicting her as the one women he has ever loved, she asks, "Only one? Oh, Petyr, do you swear it? Only one?" To this sickly sweet question, Petyr responds coldly, "Only Cat." Her husband finally admits to Lysa's worst fear, that through of all of it, Petyr has only ever loved her sister, Catelyn Stark. After the emotionless admittance, Petyr brutally pushes the shocked Lysa Arryn out the Moon Door, killing her instantly.
© 2023 Latin Times. All rights reserved. Do not reproduce without permission.