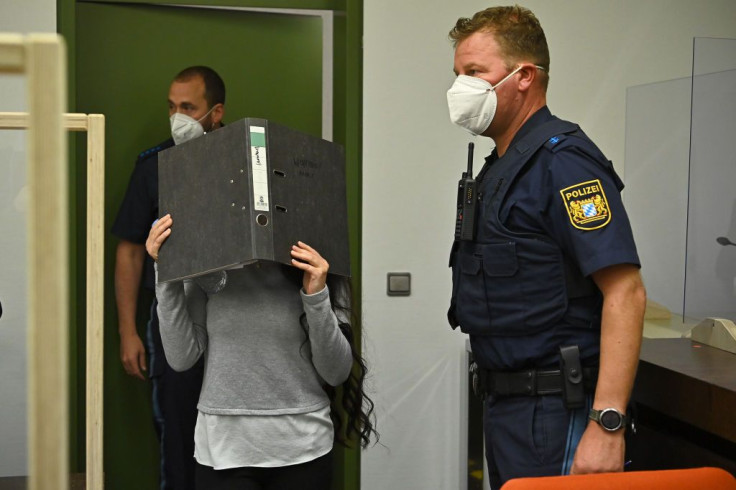 A German woman who converted to Islam has been sentenced to 10 years in prison Monday by a Munich court on charges of letting a 5-year-old Yazidi girl die of thirst. The young victim had been kept by the woman and her husband as their slave in Iraq and had left her under the hot sun resulting in her death.
According to Euro News, the 30-year-old woman, identified as Jennifer Wenisch is a member of the Islamic State group in Iraq. She was convicted by the Higher Regional Court in Munich of crimes against humanity, aiding and abetting attempted murder, membership with terrorist organization, and attempted war crimes.
German prosecutors said Wenisch and her husband purchased a Yazidi slave woman along with her 5-year-old child named Rania, in 2015 to be household slaves. The mother and daughter were held captive for six weeks and were subjected to daily beatings which Wenisch reportedly instigated. When the young girl fell ill, she had wet her mattress and Wenisch's husband decided to chain her outside as punishment. She was left to die of thirst in the scorching heat.
In a statement released by German Press Agency DPA, federal prosecutors said the woman just stood by as her husband chained the slave girl in a courtyard. Judge Joachim Baier said Wenisch did nothing to help the girl, although this had been the reasonable thing to do and the situation made it possible for her to help the defenseless child.
Wenisch claimed she was scared that her husband would lock her up if she intervened. Meanwhile, the girl's mother was still held and enslaved by the couple even after her daughter's death. The mother was able to testify at the trial where she revealed details of the tortures her daughter had suffered.
German media reports said Wenisch made her way to Iraq in 2014 traveling through Turkey and Syria with her intent to join the Islamic State (IS) group where she later married Iraqi national Taha al-Jumailly. She was made to patrol parks in Fallujah and Mosul fully armed and weaponized with an explosive vest, a rifle and a pistol. She was told to search for women who refused to conform with the strict behavior and dress codes of the IS.
In 2016, she was apprehended by Turkish security services while in the process of renewing her identity papers at the German embassy in Ankara. She was later deported back to her home country but was only taken into custody in June 2018.
Amal Clooney, the victim's legal counsel said after Monday's verdict, "I am grateful to the German prosecutors for bringing this case and I hope that we will see a more concerted global effort to bring ISIS to justice."
Wenisch's case is one of the first trials in the world to prosecute a war crime against the Yazidis. More than 7,000 Yazidi women and girls as young as nine, have been enslaved and transferred to different location in eastern Syria and Iraq.