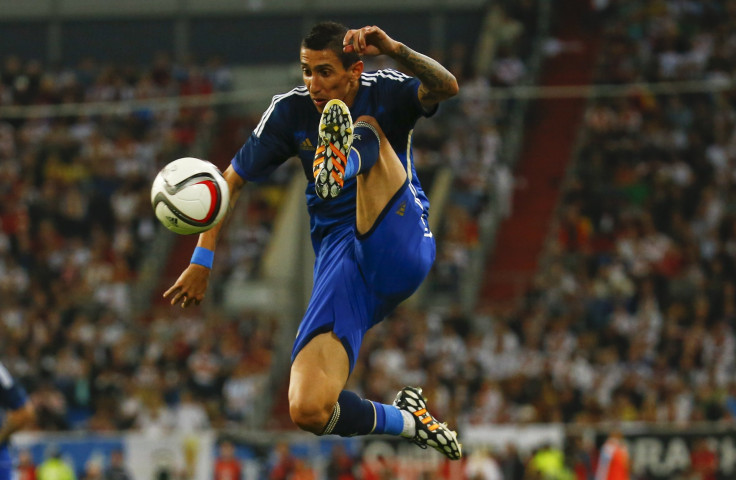 Argentine winger, Angel Di Maria proved to the world why Manchester United spent a Premier League record amount of money on him this summer. Di Maria had a goal and three assists in Argentina's 4-2 beat down of World Cup rival Germany on Wednesday.
Despite the match being an international friendly, with both teams without star players, it was a surprisingly entertaining and high scoring rematch to the 2014 World Cup Final in July. Without Messi, Argentina's lineup still looked similar to the one on the pitch in Brazil, but Germany and Jogi Loew fielded a roster of mostly substitutes as he left Mats Hummels, Jerome Boateng, Thoms Mueller and Mario Goetze on the bench.
The German side was also without star striker, Miroslav Klose, Per Mertesacker and Philipp Lahm all of whom retired from international play following their World Cup victory in Brazil. All three men were honored before the game for their accomplishments and achievements playing for the Men's German National team. In all, only four members of the German team which won the World Cup started in this game.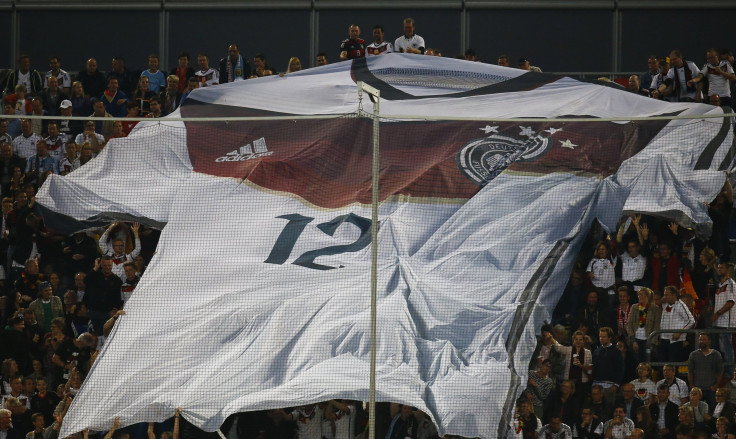 Di Maria was on fire in the game, setting up goals for teammates Sergio Aguero (20'), Erik Lamela (40') and Federico Fernandez (47'), not to be outdone, the newest member of Manchester United got in on the action himself with a goal in the 50th minute. Without Argentina star Lionel Messi, Di Maria dominated a deflated Germany team and proved why former Real Madrid teammate, Cristiano Ronaldo was so broken up over his departure.
New German captain, Bastian Schweinsteiger also did not play in the match as he was out with a knee injury suffered in the MLS all star game. Golden Glove winner and standout German goalkeeper, Manuel Neuer instead wore the captain's armband, but he was anything but deserving of it with his play on the pitch giving up two goals by halftime.
Miroslav Klose's replacement for the future, Mario Gomez, had multiple opportunities to score for Germany, including two wide open goals in front of the net, but he was unable to convert leading the German crowd to whistle and boo while they chanted the World Cup's all-time goal scorer's name.
But this game was really about the precision passing and excellent skill of Angel Di Maria. In the 20th minute on the first goal of the game, Di Maria bent a beautiful cross that Aguero easily kicked into the net. Call Di Maria a waiter, because he served that ball on a plate for Aguero. For the second goal, Di Maria tore through the shaky German defense and got down to the by-line. Surveying the box, Di Maria dealt another great pass to Lamela who had plenty of space to fire a shot into the top left corner of the net.
Seconds into the second half, Di Maria again bent a beautiful ball into the box on a cross that Fernandez was easily about to head into the back of the net. Minutes later, Di Maria put the cherry on top with his loft shot goal that was gently placed over backup goalkeeper, Roman Weidenfeller's charging body. Di Maria dove head first past the by-line and landed in front of the stands where he flashed his notorious heart shape hand symbol.
For Germany, there were a few bright spots, Andre Schurrle who played well in Brazil scored a goal off of a ricochet late in the second half, and World Cup final's hero, Mario Goetze also got in on the action as his shot deflected off of Fernadez and into the net for a goal. The four goal lead for Argentina proved to be too much to overcome for Germany however, as La Albicelste went on to win 4-2.
All in all, the international friendly was a quite fun match and an excellent way to relive some of the excitement the world witnessed in Brazil in June and July. Don't expect Germany to give up four goals on their home soil in a tournament match with something at stake however, as an exhibition game such as this is more of an anomaly than the norm.
© 2023 Latin Times. All rights reserved. Do not reproduce without permission.