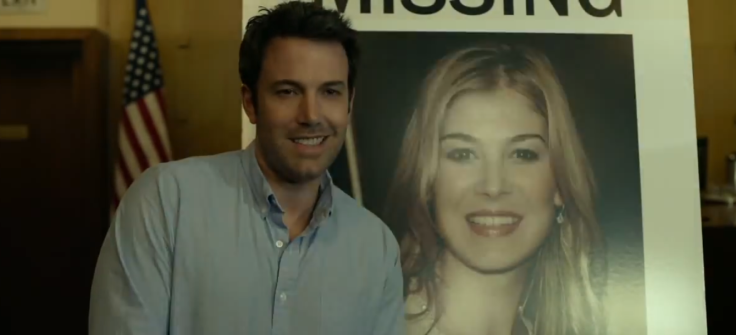 Adapting Gillian Flynn's 2012 novel "Gone Girl" was no less than an epic challenge to which David Fincher rose to. Flynn adapted her own novel, which, after reading the book, lacked some depth, but was still tremendously entertaining. Some say David Fincher has yet to make a bad casting decision and when it comes to Ben Affleck playing Nick Dunne, I couldn't agree more. Not only is Affleck's performance absolutely convincing, but everything about him fits the character; his physique, his mannerisms, his voice, and yeah, his stunning looks.
The story follows a young couple, Nick Dunne and Amy Elliot, who meet in Manhattan in their early thirties only to fall madly in love and get married. Amy Elliot comes from a lot of money, which her sheltering parents made by writing a series of children's books called "Amazing Amy." Nick, on the other hand comes from a more modest family in Missouri and is more of a country boy at heart. The pair enjoys marriage bliss even through the rough patches where Nick loses his job and he decides they need to move to North Carthage, to tend to his sick mother. From then on, the marital bliss starts to fade as difficulties escalate to potentially irreparable levels.
Fincher is not known to make short movies which is why I wasn't shocked this was 2.5 hours long but I will say I never once looked at my watch, even knowing most of what was going to happen next.
The performances are all outstandingly satisfying, with small exceptions that perhaps come from imagining them differently as I turned the pages. As a fan of Rosamund Pike I will say her American accent lacked a little looseness and her voice a bit of convincing sweetness, which in my mind would belong to a 'perfect' character such as Amazing Amy.
When talking about the storyline's lack of depth, I mean I missed going a little deeper into the characters backgrounds; why Nick Dunne is the way he is and what his father was like, etc. But all in all I'd say Fincher and Flynn delivered a riveting nail-biter, which, just like the book, is impossible to look away from.
© 2023 Latin Times. All rights reserved. Do not reproduce without permission.