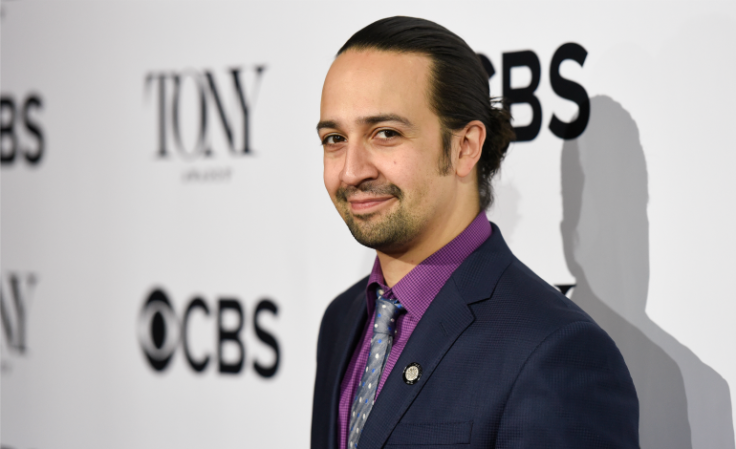 After "Hamilton" made its debut on Broadway in the fall of 2015, its creator Lin-Manuel Miranda is allegedly leaving the show.
The Hollywood Reporter revealed that the Puerto Rican actor, who composed the music and wrote the lyrics for the play, will soon leave the musical to focus on future projects. According to THR, Miranda, who portrays the leading role as Alexander Hamilton in "Hamilton," let some of his closest friends know that he os going make an exit. It is also reported that other cast members of the musical are "seeking big raises" and are "ready to walk if they don't get them."
"Hamilton" made its Off-Broadway debut at The Public Theater in February 2015. Six months later, it was transferred to Broadway at the Richard Rodgers Theatre. The successful show won a Grammy Award for Best Musical Theater Album and the Pulitzer Prize for Drama. The popular production is nominated in 16 categories at the Tony Awards.
Miranda, who is also known for his killer rap skills, is believed to leave Broadway to work on other projects. This includes his first-ever animated film in Disney's "Moana" and the lead as Bert in "Mary Poppins Returns" alongside Emily Blunt.
Despite the heartbreaking news, it was announced this week that Miranda's breakthrough play "In The Heights" will make its big screen debut with the& help (and money) from Harvey Weinstein's company. The show, which debuted in 2008, won the Tony for Best Musical that same year and was also nominated for a Pulitzer Prize for Best Drama.
"As a kid from Queens, I've always loved bringing New York stories to film," Weinstein told The Hollywood Reporter. "'In the Heights' and Lin-Manuel brought Washington Heights to Broadway back in 2008 and in the process turned the theater world on its head. The movie musicals of the 1950s were incredible, but In The Heights will revolutionize what movie audiences expect from the genre."
The musical, set in Washington Heights in Manhattan, follows the story of a young man who inherits his grandmother's small fortune and has to decided if closing his bodega and moving to Dominican Republic to retire is the right choice for him.
Mark Klein ("Serendipity") has already penned the first draft of the script, and world-renowned producer Scott Sanders ("The Color Purple") will be producing along with Miranda all under the umbrella of The Weinstein Co.
© 2023 Latin Times. All rights reserved. Do not reproduce without permission.