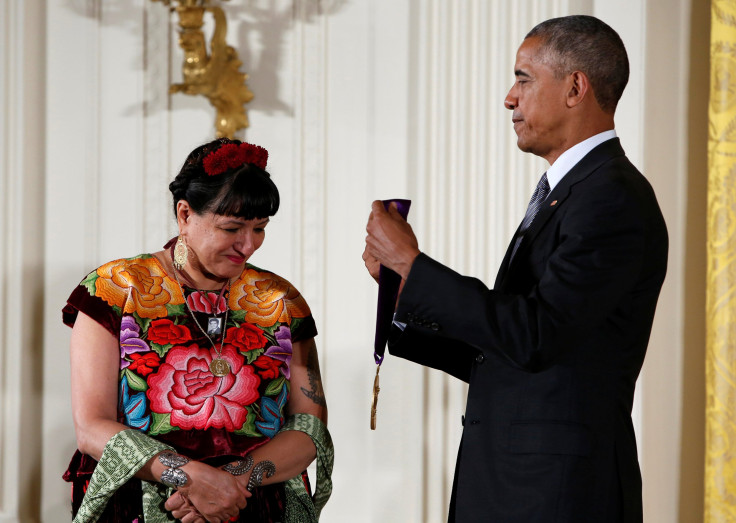 U.S. President Barack Obama honored Latino figures, including Mexican-American author Sandra Cisneros, Spanish chef Jose Andres and activist Luis Valdez, on Thursday as part of hailing Hispanic culture. The artists were presented with the National Medal of Arts and Humanities at a White House reception to celebrate "creators who give every piece of themselves to their craft."
Other cultural figures, such as actor Morgan Freeman and comedian Mel Brooks, were also honored at the event. Brooks received the award "for a lifetime of making the world laugh," Obama said, while Andres was honored for "cultivating our palates and shaping our culture."
The president talked about Freeman, saying he was "undoubtedly off playing a black president... He never lets me have my moment."
Latino musician Santiago Jimenez, Jr. received the award for his accordion work which blends "the sounds and cultures of South Texas and Mexico."
Cisneros, who is well known for her book "The House on Mango Street" was honored for "enriching the American narrative" through her stories of race, class and gender, according to Obama.
Activist Luis Valdez's award for the evening held a strong significance amid the presidential campaign, as he constantly denounces Donald Trump's attacks on immigrants. Valdez reportedly said that if the New York mogul becomes president, the country will see "a lot" of protests via the arts and on the streets.
The National Humanities Medal was awarded to authors James McBride, Rudolfo Anaya, Louis Menand, Ron Chernow, Abraham Verghese, Elaine Pagels, Isabel Wilkerson, poet Louise Gluck and the Prison University Project, Higher Education Program.
© 2023 Latin Times. All rights reserved. Do not reproduce without permission.