Ahotel conducted a paranormal investigative event after visitors reported hearing footsteps and hair pulling, as well as phones ringing at reception from unoccupied rooms.
On Sunday evening, Somerset Paranormal Investigators UK (SPI UK) hosted an event at the Shrubbery Hotel in Ilminster, Somerset, in South West England.
After encountering "a few unusual occurrences" at the hotel, the lead investigator approached them.
The hotel management claimed a history of paranormal activity at the hotel, including "many" sightings of a cavalier in the dining room, disembodied sounds, and the sense of being touched in the kitchen and cellar, according to the SPI UK lead investigator.
Unoccupied rooms and sightings of the previous hotel owner prompted multiple phone calls to the reception desk.
The detectives were divided into teams to investigate different parts of the hotel.
"We use scientific equipment, and some of the older methods to investigate," the lead investigator for SPI UK told Somerset Live.
She said per an online tabloid that the group's walkie-talkies were causing interference, imitating the team's voices.
She went on to say that everyone in the group heard our own voices coming through on the walkie-talkies, asking for other team members while we were obviously standing on camera and not touching them.
"Disembodied masculine sounds" were also heard screaming out the name "Elizabeth," which was apparently the name of the first owner's wife.
Hair was also pulled upwards, according to the event-goers. In the building, they felt touching and heard whistling.
It comes after a paranormal detective claimed to have seen the fabled Black-Eyed Child and was dubbed a "real-life ghostbuster" for doing so.
Lee Brickley, a ghost hunter who also writes books about them, believes he has had encounters with weird and dark figures since he was a child.
He detailed his experience in an article published in The Mirror this week. Brickley said the famed creature, which is claimed to assume the shape of an infant with blacked-out eyes, in an area of Cannock Chase in Staffordshire. The said area is the most haunted town in the UK.
He claims the eerie figure emerged approximately a hundred meters ahead of him, stared him down for about thirty seconds, and then "vanished without a trace."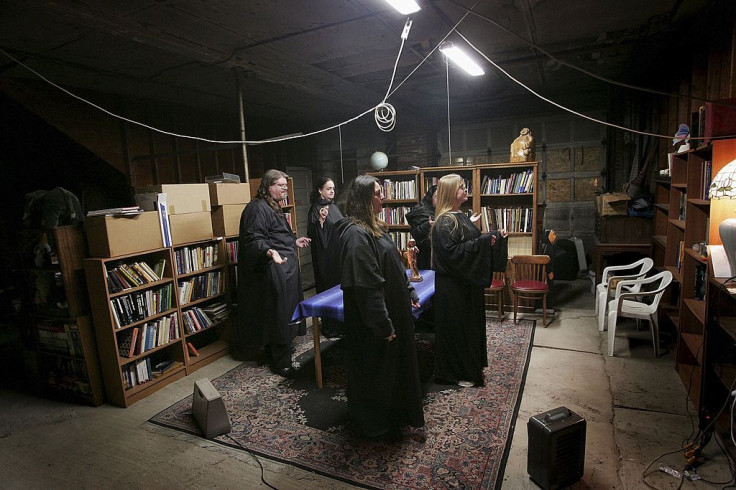 © 2023 Latin Times. All rights reserved. Do not reproduce without permission.