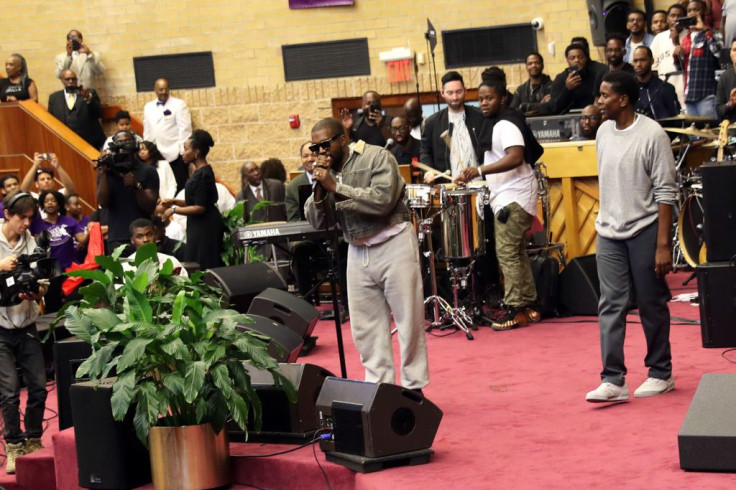 Kanye West's decision to take his legendary Sunday Service to Joel Osteen's Houston-based Lakewood Church has already put him in the middle of a controversy. But wait, if you want to see it, you can now do it for free. The rapper announced that he will be giving out free tickets, strictly on a first-come, first-served basis.
Although a large crowd is expected, only 45,000 people will be given entry to attend each of the two services that will take place at the Lakewood Church, reports TMZ.
The DailyMail reports that Kanye will first have a chat with Osteen at the first service, which will be held at 11 am. The Church's spokesperson said that during the first service, the rapper will take the stage to speak about his journey towards his faith for 15-20 minutes.
However, the tickets are only available for his evening service, where his choir will perform and not for the morning one, where West will discuss about his faith.
The free tickets will be available on Ticketmaster on November 16 for the evening service. If you want to attend the morning service, it is again on a first-come, first-serve basis. But don't be disheartened if you aren't able to grab your free ticket. You can still watch the program live on Lakewood Church's official website, YouTube, Facebook, and SiriusXM.
The Church has also arranged additional security for the rapper. Donald Iloff, Jr., the Church's spokesperson, said that the duo collaborated when the Grammy-winning artist was in Houston for the Astroworld Festival. He even said that "Kanye and Joel are friends."
Kanye started his Sunday Service on January 6, and since then, he has had masses following him. In fact, not all services are open to the public, and the ones who attend are asked to sign a non-disclosure agreement, says Fader.
© 2023 Latin Times. All rights reserved. Do not reproduce without permission.